[ad_1]

Rome — Officials said on Monday that 17 people remained unexplained for a day after a huge mass of glaciers in the Alps broke and crashed into hikers in northern Italy.
On Sunday afternoon, an avalanche struck a mountain slope at the top of the Marmolada Glacier, injuring nine people, killing at least six and injuring nine.
Trent's prosecutor Sandro Raimondi was believed to be missing 17 hikers, the Italian news agency La Presse reported.
Governor Luca Zaia of Veneto said that some of the people hiking in the area on Sunday were roped together as they climbed.
The nationality of the known dead was not disclosed, and the situation was too dangerous for rescue teams with dogs to resume searching for the missing or drop their bodies on Monday morning.
The bodies will be taken to the ice skating rink in Kanazei, a resort town in the Dolomites, for identification.
Raimondi reportedly stated that two of the nine injured were German. Zaia told reporters that one of the Germans was a 65-year-old man. One of the injured patients in the intensive care unit has not yet been identified.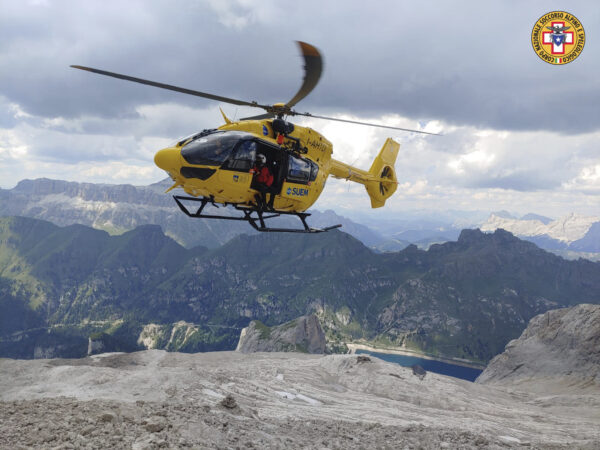 The patient suffered chest and skull injuries, Zia said.
Drones were used to look for what was missing and to ensure safety.
Sixteen cars remained unclaimed in the parking lot in the area, and authorities attempted to track residents through license plates. The number of cars that may have been owned by the victims or injured already identified was unknown, all of which were taken to the hospital by helicopter on Sunday.
Rescue teams said the downhill conditions from the glacier were still too unstable early on Monday to send back a team of people and dogs to dig into a large amount of debris.
Prime Minister Mario Draghi and the head of the National Civil Protection Agency were traveling to the disaster area for a briefing on Monday.
It was not immediately clear why the glacier's apex smashed the slopes at a speed estimated by experts at 300 km / h and thundered.
The glaciers in the Marmolada Mountains are the largest in the Dolomites Mountains in northeastern Italy. People ski with it in winter.
By Frances D'emilio
[ad_2]