The man was charged with assault and battery after a protest outside a hotel where asylum seekers stayed turned violent.
Jarad Skeet, 19, of Irwell Close, Aigburth, Liverpool, was among 15 people arrested during a demonstration outside the Suites Hotel in Knowsley on Friday night, Merseyside police said. said.
Skeet is accused of assault and assault for beating a paramedic. He is in custody and is scheduled to appear in Wiral Adult Remand Court on Monday.
The remaining 14 arrested, 12 men and 2 women, primarily from the Knowsley area, have been released on conditional bail pending a police investigation.
The protests came after a video circulated on social media of a man with a foreign accent allegedly making inappropriate remarks to a 15-year-old local girl.
Merseyside police said the protests were "initially peaceful" until another group caused trouble. A police van caught fire and three people were slightly injured.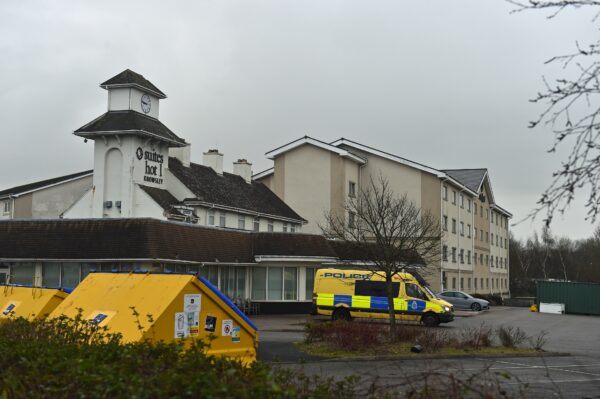 police van burnt
Around 6:30 pm on Friday, protests and protests took place at the Suites Hotel on Libblers Lane in Prescott, Knowsley. The hotel is being used by the Ministry of Interior to accommodate asylum seekers from January 2022.
Police said many people "who weren't part of the original protest group" showed up shortly after.
Merseyside Police said in a statement on Saturday, "And it was clear that they were only interested in causing trouble through violence and intimidation, not thinking or caring about other civilians or our officers. There was no such thing as an accident.
"Missiles containing lit fireworks were thrown at police officers and one of the police cars was attacked by the offender and hit with a hammer before setting it on fire," the statement said, referring to one police officer. added that two civilians were slightly injured.
Chief Sergeant Selina Kennedy said the group that emerged later was "enthusiastic to use the planned protests to carry out violent and despicable acts."
"They showed up armed with hammers and fireworks and created as much trouble as they could. Their actions could have seriously injured or worsened civilians and police officers." she said.
'misinformation'
Referring to a video that showed a 15-year-old girl approaching a man who spoke only broken English around nearby Kirkby, President Kennedy took to social media after the incident earlier this week to create a "rumor. He said the violent protests took place after "misinformation" spread. Leisure center on February 6th.
The video appeared to have been carefully filmed by the girl and did not show the faces of the people involved. The male answered 25 years old and the female answered 15 years old.
It is unclear whether the man was an asylum seeker or lived in a hotel.
After the incident, some Twitter accounts that shared the video claimed migrants were "abusing and grooming children."
Kennedy said the Kirkby incident was reported to police by members of the public, but no victims were initially identified.
She also said an investigation found that a man in his 20s was arrested in another part of the country on February 9 on suspicion of violating public order and released without further action on the advice of the public prosecutor's office. rice field.
"I want to be clear that this is a very ongoing investigation. Anyone who witnessed this incident or has any information that could help bring the perpetrators to justice please come forward." please give me. .
"Be aware that social media speculation, hoaxes and rumors can actually undermine the outcome of an investigation and cause unnecessary fear and consequent action, so be aware of the damage such actions can cause. I continue to ask people to please," she said.
condemnation
Home Secretary Suela Braverman condemned the unrest on Saturday, adding that "the alleged behavior of some asylum seekers is in no way an excuse for violence."
She wrote on Twitter: The behavior of some asylum seekers is no excuse for violence or intimidation. Thank you to @MerseyPolice cops for keeping everyone safe. "
But the opposition Labor Party accused the government of creating a "toxic combination" of anti-immigrant rhetoric and poor service delivery.
Describing the protests as "absolutely terrifying", Shadow Leveling secretary Lisa Nandi said: condemn them vehemently. "
Nandi described the government's decision to outsource asylum services, abandon consultation with communities and place refugees in inadequate accommodation as a "recipe for disaster".
Development Secretary Andrew Mitchell also said the violence was "totally unjustifiable".
He told the BBC: But the kind of violence seen on Friday night is completely unacceptable and the government categorically condemns it. "
He rejected suggestions the government had helped stir up anti-immigrant sentiment, adding that it was housing "thousands of Ukrainian refugees" along with people from Hong Kong and Afghanistan.
"This is an unprecedented time for the UK to help people in desperate danger," he said.
"We have a duty to welcome these people. Often they are in desperate danger, but we also have a duty to accommodate them properly and to work with the local population. I have.
"The Home Office is now working hard to stop the overuse of hotels and find different ways to place them in appropriate locations within the community. And that is what the Home Office will achieve."
PA Media contributed to this report.