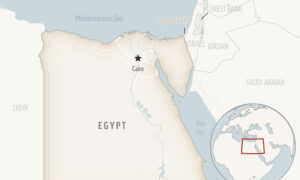 CAIRO — At least two people were killed and 16 injured when a passenger train derailed north of Cairo on Tuesday, Egyptian officials said. This was the latest in a series of railway accidents in the country in recent years.
The derailment occurred while the train was passing through a train station in the city of Kalyub on its way to the city of Menuf in the Nile Delta, state prosecutors said in a statement. They said they had launched an investigation into the cause of the crash.
At least 20 ambulances were dispatched to the scene, and the injured were transferred to nearby hospitals, health officials said.
A video of the aftermath of the crash posted on Facebook showed a crowd and emergency services gathering around the railcar, which remained upright after the derailment. I saw it being served.
Train derailments and collisions are common in Egypt, which has a history of poor maintenance and poor management of the railway system. In recent years, the government has announced a modernization initiative to improve the railway.
In 2018, President Abdel Fattah El-Sisi said that about EGP 250 billion, or $8.13 billion, would be needed to properly overhaul the neglected railway network in the North African country.
In 2021, 32 people were killed when two trains collided in the southern Egyptian city of Tahata. Later that year, 11 people were killed when a train derailed in Caryubia.
Egypt's worst train accident was in 2002, when a night train from Cairo to southern Egypt caught fire, killing more than 300 people.