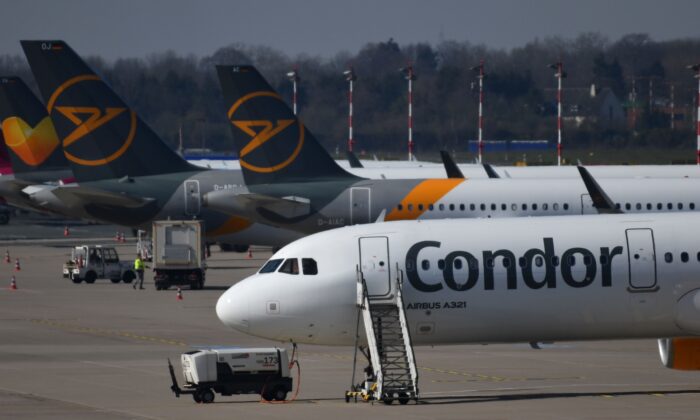 A plane of the leisure airline Condor parked on the tarmac at Düsseldorf Airport in western Germany, March 25, 2020. (Ina Fassbender/AFP via Getty Images)
BERLIN — Several people were injured during a flight from the German city of Frankfurt to Mauritius on Thursday due to turbulence, German news agency dpa reported.
About 20 passengers and crew aboard Condor flight DE2314 were injured when the plane encountered turbulence about two hours before landing, an airline spokesperson told dpa.
Mauritius is an archipelagic state whose main island is about 2,000 km (1,200 miles) off the southeastern coast of Africa.
An airline spokeswoman said the injured were being medically evaluated. It was not immediately clear how serious their injuries were, the DPA reported.
The plane, Airbus A330, carrying 272 passengers and 13 crew members, landed safely at the airport near the capital Port Louis at 6:29 am local time.