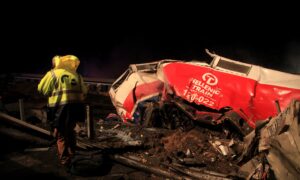 ATHENS—Twenty-six people were killed and at least 85 injured when two trains collided head-on in Greece late Tuesday night, firefighters said, though the circumstances of the crash remain unclear.
An intercity passenger train from Athens to the northern city of Thessaloniki collided with a freight train outside the central Greek city of Larissa, the Thessalian governor said.
"The collision was very violent," Governor Konstantinos Agorastos told SKAI TV, adding that the first four cars of the passenger train had derailed.
The first two vehicles, which caught fire after the collision, were "almost completely destroyed," Agorastos said.
About 250 passengers were safely evacuated to Thessaloniki by bus. One passenger told state broadcaster ERT that he managed to escape after smashing a train window with his suitcase.
A young man who took refuge on a nearby bridge told SKAI TV:
"It was like an earthquake," another passenger, Angelos Chamouras, told ERT.
Broadcaster SKAI aired footage of the derailed train. It was badly damaged by broken windows and thick smoke, and there was debris littering the road. Rescuers were seen carrying torches into carriages in search of trapped passengers.
"Considering the seriousness of the collision between the two trains, the evacuation of passengers is proceeding in very difficult conditions," Fire Brigade spokesman Vassilis Varthakogiannis said in a televised address.
In the early hours of Wednesday, footage from state broadcaster ERT showed rescue workers with headlights on searching the wreckage and surrounding fields for survivors.
Local media reported that about 350 people were traveling in passenger trains. This train left Athens at around 19:30 (05:30 GMT) he local time. Firefighters said they were informed of the incident just before midnight on Tuesday. A freight train was traveling from Thessaloniki to Larissa.
Passenger trains are operated by the Italian group Ferrovie dello Stato Italiane. According to its website, it is Greece's leading provider of passenger and freight rail transport, operating 342 passenger and commercial routes daily.