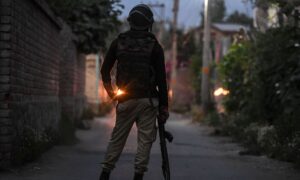 As violence in conflict areas has increased in recent weeks, officials said five suspected rebels and military soldiers were killed in a gunfight in India-controlled Kashmir on Friday. ..
According to police, a gun battle broke out shortly after dozens of rebel police and soldiers began operations based on information that there were militants in a village in the southern part of Purwama.
In a statement, police killed five militants in the Friday incident, and inspector general Vijay Kumar called the operation a "great success."
Government troops were split between India and Pakistan and stepped up operations against anti-Indian rebels in areas where both nuclear-armed rivals claimed the entire territory.
The militant suspect also attacked the police, killing two family members of the police officer in some cases.
Indian police said Wednesday that government troops had killed three suspected militants in a gun battle and recovered a rifle and two pistols.
However, a family member of one of the murdered men said 17-year-old Zakir Bashir was picked up from his house, killed in custody, and presented as a militant who died in combat.
Police claimed that the teenager had joined the rebel rank "just a few days before he was eliminated."
Last week, a militant suspect broke into a low-ranking police officer's house and shot him deadly with his wife and daughter.
On June 22, assailants shot and killed police intelligence in Srinagar, the region's major city. Police blamed the militants.
Indian troops stopped a major threat last week when they intercepted two drones flying over a military base in the Jammu area of ​​the region the day after an explosive-laden drone was used to attack an air base. Said.
Rebels have been fighting Indian rule since 1989 in an attempt to unify their territory under Pakistan's control or as an independent state.
New Delhi claims that Kashmir's militants are Pakistan-sponsored terrorism.
Pakistan has denied the charges, and most Kashmirs consider it a legitimate struggle.
Tens of thousands of civilians, rebels, and government forces were killed in the conflict.