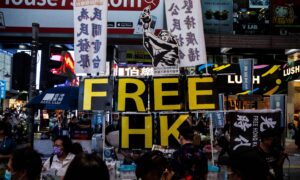 Six former Foreign Ministers sent a letter to Prime Minister Boris Johnson requesting that Hong Kong be on the agenda at the G7 summit hosted by the United Kingdom next week.
so Open letter Sir Hague, Sir Owen, Sir Malcolm Rifkind, Margaret Beckett, David Miliband and Jack Straw said: From the British Government on this matter "
Former ministers who have served as both Conservative and Labor governments have expressed concern about the ongoing crackdown on democratic movements in Hong Kong and have called on the Prime Minister to put the Hong Kong crisis on the agenda. G7.
"In the past few months, Beijing has arrested 47 pro-democracy activists and lawmakers under national security law in a'crime'to hold a pro-democracy primary election, and Hong Kong to prevent a pro-democracy party from standing. "Immigration bills that will change the election system and allow the introduction of a" immigration ban, "they wrote.
Former ministers welcomed the UK government's actions in response to the Chinese government's national security law. National Overseas (BNO) status to settle in the United Kingdom.
But they said Britain should play a more important role in leading the international response.
The letter said, "It is clear that the voices of celebrities in support of democratization in Hong Kong are imprisoned, awaiting trial, or in exile abroad, and there is a need for a robust and coordinated response. It's clear that it's rising. "
"As a co-signer of the Sino-British Joint Declaration, the United Kingdom will lead and coordinate the international response to this crisis, ensuring the integrity of the treaty submitted to the United Nations in 1985 and the" one country, two systems " Must be considered to be. system"
"Therefore, the international response to the Hong Kong crisis is on the agenda, and the UK Presidency of the G7 coming at the end of the month to ensure that efforts are made to form a consensus on China's continued breach response. We recommend that you use the China-UK Joint Declaration. "
A former minister said he would open the letter to the public because of "the seriousness of the crisis in Hong Kong and the great public interest in this issue."
The Epoch Times sought comment from the Foreign, Commonwealth and Development Agency (FCDO) in the United Kingdom.