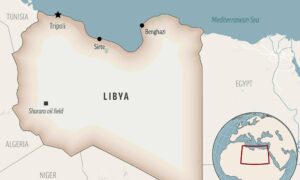 CAIRO — At least eight people have died and 58 are missing after a boat carrying migrants bound for Europe capsized off the coast of Libya, the country's Red Crescent said Wednesday.
Libyan Red Crescent spokesman Tawfik al-Shukri said the wreck occurred Tuesday off the Mediterranean town of Garabulli, about 60 kilometers (37 miles) east of the capital Tripoli.
At least 150 migrants were on board the boat, 84 of whom survived and were transferred to government-run migrant detention centers.
Al-Shukri said all the recovered dead were male. He shared an image that he claimed shows a worker in a Red Crescent uniform stuffing his bag with a black body, with the Mediterranean Sea in the background.
Libya has emerged in recent years as a major transit point for migrants trying to reach Europe from Africa and the Middle East. The oil-rich country was thrown into turmoil after his NATO-backed uprising in 2011 overthrew and killed longtime dictator Col.