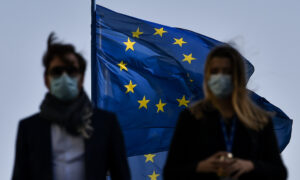 Nine U.S. allies in Europe have summoned China's ambassadors in protest after Beijing slapped sanctions on a dozen European officials, researchers, and institutions that have been vocal about the regime's human rights abuses.
The "sanctioning of members of Parliament and scientists is absolutely incomprehensible," said German foreign minister Heiko Maas in a March 23 statement after meeting with the Chinese ambassador in Berlin. "While we sanction abuses of human rights, Beijing sanctions democracy. We cannot accept this," Maas said.
At least eight other countries, including France, Denmark, Belgium, Estonia, Lithuania, the Netherlands, Sweden, and Italy, have also called in the Chinese envoys to register their complaints over the past two days.
The Chinese measure came at the heels of coordinated Western sanctions on Monday from the United States, the UK, Canada, and the European Union to punish Beijing's repressive policy in Xinjiang. It marked the first of its kind that the EU imposed on China in three decades.
In apparent retaliation, the Chinese foreign ministry singled out 10 individuals and four entities for sanctions, accusing them of "maliciously spread[ing] lies and disinformation" and harming Chinese sovereignty. The ban would block the individuals and their families—among them eight European politicians and two scholars, two subcommittees under the European Parliament and the EU—from entering China and restrict associated entities from doing business with the country.
The aggressive response from Beijing has prompted an outpouring of support toward the targeted individuals and entities, with Daniel Twining of U.S. non-profit International Republican Institute—who got on Beijing's blacklist last year for supporting Hong Kong—calling it "a badge of honor."
Ann Linde, the foreign minister for Sweden, called the Chinese sanction "unacceptable." Sweden's "support for human rights remains unchanged, which was communicated by State Secretary Rydberg to China's ambassador today," she said in a Tuesday tweet.
In France, Chinese ambassador Lu Shaye also drew fire for the embassy's inflammatory comments defending its government's policies. He called the Paris-based researcher Antoine Bondaz "mad hyenas" and "little thugs" after China imposed sanctions on him and others.
Lu, upon being summoned, initially cited "scheduling issues" for delay in talks.
"Neither France nor Europe is a doormat," Europe Minister Clément Beaune told France Info radio. "When you are summoned as an ambassador, you pay a visit to the foreign ministry."
"In our relations with China, there is no room for insults and attempts at intimidation against elected officials of the Republic and researchers," said the country's foreign minister Jean-Yves Le Drian. "We stand up for those who embody freedom of expression and democracy. Always and everywhere."
Adrian Zenz, a German scholar known for his studies on the Xinjiang concentration camps, expressed concerns that Beijing might be "fundamentally shifting" its strategy. Instead of flat denial of evidence on its human rights violations, "they now feel untouchable about it all," he wrote in a Wednesday tweet.
"Beijing's strategy is to simply crush and silence any global opposition to its atrocity by inflicting crushingly punitive measures on anyone who speaks out."
U.S. Secretary of State Antony Blinken said after a meeting with NATO allies in Brussels that the Chinese aggressive action has heightened the importance of a strong international alliance.
The sanctions "make it all the more important that we stand firm and stand together, or else risk sending the message that bullying works," he said in a speech on March 24.
The strained ties between the EU and China could jeopardize a bilateral investment deal that the EU is set to vote on early this year, which came after seven years in the making.
Bondaz, who has since added the insulting terms into his Twitter bio, described the countries' speaking up as "a symbol of solidarity" in the 28-bloc European Union to counter Beijing's threats.
"United wills form a fortress," he said, quoting a Chinese idiom.