[ad_1]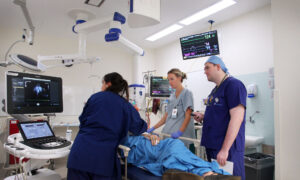 A man in his twenties with COVID-19 died at home after New South Wales (NSW) reported 233 new cases acquired locally and warned that the situation would worsen with Prime Minister Gladys Beregikrian. Did.
The unvaccinated southwestern Sydney man is the second man under the age of 30 to die of the virus in Australia after the death of a Victorian man last August.
According to New South Wales Chief Health Officer Kelly Chant, local health officials are following him daily, and on the 13th day of quarantine he "suddenly deteriorated."
"He was checked daily and complained of a bit of fatigue, but suddenly it got worse," Chant said.
"We are aware that using COVID can lead to sudden death. I think it is important to understand that it can worsen your health."
The second death since July 20, involving a person quarantined at home, was referred to a New South Wales coroner.
"It's a re-show of how the disease is deadly and affects people of all ages," Gladys Berejikrian said Wednesday.
An unvaccinated woman in her 80s also died in the hospital on Tuesday, with all deaths between the age of 17 and the onset of the outbreak in mid-June.
Of the new cases, at least 68 were in the community for part (21) or all (47) of the infection period.
The isolation status of another 73 cases is unknown, but 130 cases have not yet been linked to a known cluster.
Cases reported from 24 hours to 8 pm on Tuesday mean that 1489 cases were recorded in a week.
"I think they really get worse," said Beregikrian.
"Looking at the number of people infected in the community probably shows that we haven't peaked."
She said mobility data showed fewer people moving than during the 2020 winter blockade in Victoria, but New South Wales faces a more contagious virus strain. Stated.
Faced with questions about why Bunnings and other retailers are still open, the Prime Minister said the restrictions were the strictest the country had seen and the list of allowed workers was "very small." rice field.
Overnight, NSW listed 275 different visits with positive cases at more than 170 venues.
The venue included Parramatta Centrelink, which was visited four times in eight days, several post offices, more than 50 supermarkets, and two McDonald's visited more than two weeks ago.
The additions were very widespread, and NSW Health was unusual and instructed people to not list each in media releases or social media, but instead check the website on a regular basis.
From Brookvale in northern Sydney to Wollongong's Figtree, Woolworths is close to 40 venues.
Meanwhile, residents of Campbeltown apartments have been severely blocked after several residents were infected with COVID-19.
Similar measures were taken early in the outbreak at Blacktown and Bondi Junction unit blocks.
Prime Minister Scott Morrison, who once praised NSW as the "gold standard" for COVID-19 management, admits that the Delta strain is highly infectious and unsuitable for its purpose.
Wednesday night will be the 40th night of the blockade of Greater Sydney and the surrounding area.
Approximately 85,000 vaccinations took place in New South Wales on Monday. The numbers show that 42.3 percent of people over the age of 16 received at least one vaccination, while one in five residents was fully vaccinated.
"It's really tragic to see people in their 70s, 80s and 90s not yet vaccinated," said Dr. Chant.
"We know that vaccines work. Vaccines protect you even once."
[ad_2]