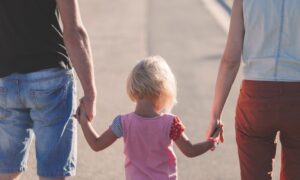 A new £ 48m ($ 66m) national adoption strategy has been launched to improve UK adoption services.
The government will better support families during adoption by working on a "zip code lottery" and breaking down "barriers to building a permanent, stable and loving home as soon as possible". He said he was aiming for that.
This investment will eliminate unnecessary delays, provide more training to frontline staff, and fund targeted recruitment campaigns to better align future adoptions with children and adolescents. Is set up to improve the country's adoption services.
A new framework of national standards will also be introduced to end the "zip code lottery" where the quality of adoption services often depends on the place of residence of the child or adoption.
Secretary of Education Gavin Williamson said: A stable family unit is the key to increasing life chances, and so many adoptive parents who have opened their homes and hearts to some of our most vulnerable children, often with very difficult backgrounds. I'm all over the country.
"We are working to improve adoption services, break down barriers to allow parents of all levels to adopt, and not simply discourage adoption because of their background.
"We are working to ensure that these children and adolescents are in line with the family that suits them, but there is still much to do. This strategy has a vision of radically improving the system. It shows and you can work with confidence. All adopted families in the UK receive the same high quality service wherever they live. "
The strategy was welcomed by a major charity, Adoption UK, but CEO Sue Armstrong Brown emphasized strong leadership and that scrutiny is needed to ensure that promises are fulfilled.
She states: "There is a lot to admire for the government's new adoption strategy. We sincerely welcome the adoption and the emphasis on listening to them.
"It is important to acknowledge that the commitment of families to provide the support they need, when they need it, is just the beginning of healing for traumatized children.
"Most of the success of our strategy depends on the ability of the Regional Adoption Organization (RAA) to make a big difference in thinking and practice. Without the backing of new legislation, this is a leap of faith.
"RAA will need support, challenges and scrutiny over the next few years to bring about changes that will give every adopted child the best chances of a bright future."
John Bezley