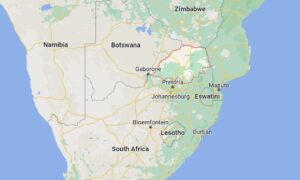 JOHANNESBURG—At least 20 people were killed and 68 injured when a passenger bus collided with an armored car carrying cash in the northern province of Limpopo, authorities said.
The two vehicles collided head-on Monday night along the N1 highway in the Makado region, according to paramedics who responded to the crash.
The bus reportedly tumbled down a slope into the river and some passengers were found trapped underneath.
ER24 ambulance spokesman Ross Campbell said three people were confirmed dead by the highway, and 16 bodies were found in the river where the bus had tumbled.
"Most of the dead that went down the river were trapped under the bus," Campbell said.
Another died after being taken to hospital, he said. Other injured were treated at the scene and some were taken to a nearby medical facility for further treatment, he said.
The exact details of the crash are unknown, but Campbell said heavy rains were falling in the area.
Police investigators were still at the scene Tuesday morning, Campbell said.
Magome Mogomotsu