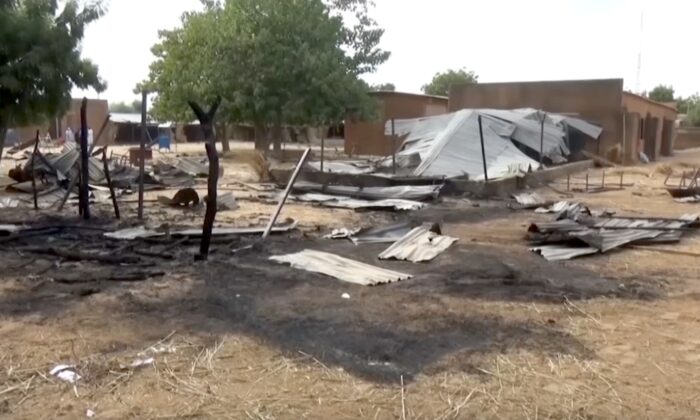 On November 8, 2021, a still image from a video burned a structure after a fire broke out at the school "AFN" in Maradi, Niger. (AP / Screenshot via NTD)
Niger, Niamey A fire broke out in a school in Maradi, Niger's second largest city, killing more than 20 children and injuring dozens.
The government said late Monday that it killed children aged 3 to 8 and burned three straw classrooms in a kindergarten and elementary school fire called "AFN."
Investigations have begun to identify the cause and location of the fire, confirming the regional direction of national education.
Straw huts are often used as temporary classrooms in overcrowded schools in Niger, West Africa.
In April, a strong wind fire broke out at an elementary school on the outskirts of Niamey, the capital of Niger, killing 20 children.
Teachers and parents say death highlights the dangers of temporary classrooms.
"Our heart is in the affected children and their families. We would like to extend our deepest condolences to the families of the victims and their communities," UNICEF representative Niger Stefano Sabi said in a statement.
"When studying at school, children should never be at risk," he said. "UNICEF will continue to work with national authorities and partners across the country to enable children to attend school and study in a safe environment."
By Dalatou Mamane