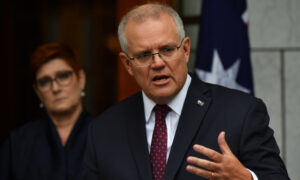 The world is at high risk of polarization, and Australian Prime Minister Scott Morrison said that like-minded democracies need to work together to realize their "future aspirations."
In a recorded speech to India's Lysina Dialogue, the Prime Minister said Australia was "not blind" to the reality of the state of the world.
"Democratic sovereign states are threatened and enforced by foreign intervention. Cyber ​​attacks are becoming more sophisticated and frequent, including those from state-sponsored actors." Morrison said.
"Economic coercion has been adopted as a tool of state crafting. The rules and norms of liberalism are being attacked," he added.
"There is a big polarization that puts our world at risk," he said. "The polarization between authoritarianism and dictatorship, and the liberal democracy we love."
The Prime Minister's comments reflect continued concerns about the potential emergence of a new Cold War by a democratic state centered on Washington, DC and an "authoritarian" administration centered on Beijing.
"The more established and rigorous these sectors are, the harder it will be for countries to make choices and stay in both camps," international strategist Alan Dupont said in a parliamentary survey last year.
"At some point, we reach a stage where we have to make strategic decisions about which one to use."
Other speakers at the week-long event included Foreign Minister Marise Payne and Secretary of Defense Angus Campbell.
Payne called on Burmese (also known as Myanmar) troops to stop violence against civilians, and Campbell called for a peaceful solution to the invasion of Beijing around Taiwan.
"The conflict over the islands of Taiwan will be a disastrous experience for the people of the region. It should be avoided by all of us." Campbell said..
"There is a path to the future through peaceful dialogue, but it is a difficult path and needs to be addressed."
Meanwhile, the Prime Minister talked about the importance of the Japan-US-Australia-India strategic dialogue between Australia, India, Japan and the United States, and called for strengthening relations between Australia, India and Southeast Asia.
He praised India's production of the COVID-19 vaccine and its distribution to more than 80 countries, but a pandemic accelerated strategic tensions, which invigorated like-minded democracies. I warned you.
"It stimulated action to protect our collective interests," he said.
"Together, we have a desire for the future. A stable area, a prosperous area with healthy people and a clean environment. We will continue to work together to achieve these goals. "