Kabul — The death toll from a bomb attack outside a school in Kabul, the capital of Afghanistan, has killed 68 people, officials said Sunday, doctors desperate for 165 injured and missing children I'm having a hard time taking care of the family I'm looking for.
The Saturday night explosion shook the neighborhood of Dasht-e-Barchi, home to a large community of Shi'as from the Hazara ethnic minority previously targeted by Sunni terrorist group ISIS. ..
A car bomb exploded in front of the Sayyid Arshhada school, and two more bombs exploded when the students panicked.
Officials said most of the people killed were female students. Some families were still looking for a hospital for their children.
"The first explosion was so powerful that it happened near the children, so some of the children were not found," Afghan officials demanded anonymity.
Witnesses told Reuters that all but seven or eight victims were female students returning home after completing their studies. On Sunday, civilians and police officers gathered books and school bags scattered on the busy bloody roads of shoppers ahead of next week's celebration of Eid al-Fitr.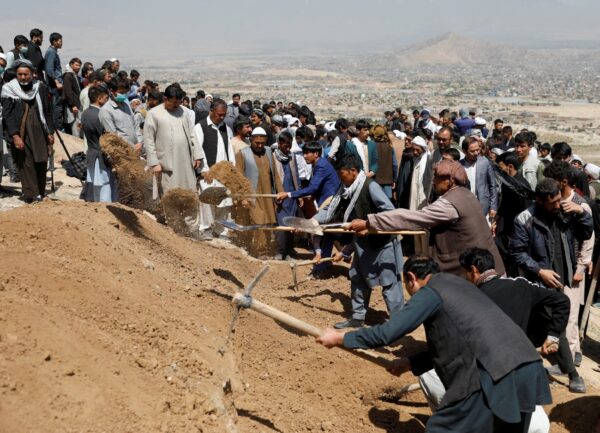 When the first burial took place in the western part of the city, the bodies were still being collected from the morgue. Some families were still looking for their missing relatives on Sunday and gathered outside the hospital to read the name on the wall, checking the morgue.
"We carried the bodies of young girls and boys to the graveyard all night and prayed for everyone injured in the attack," said Mohammed Reza Ali, who has helped the victims' families in a private hospital. Said.
Security was strengthened throughout Kabul after the attack, but authorities said it could not provide security to all schools, mosques and other public places.
President Ashraf Ghani blamed the Taliban terrorists on Saturday, but group spokesmen denied involvement and blamed attacks on Afghan civilians.
UN Secretary-General Antonio Guterres also condemned the attack and expressed deep sympathy for the victims' families, the Afghan government and the people.