EDMONTON – Government of Alberta Saskatchewan Prime Minister Scott Moe has applauded the move to introduce sovereign law-style legislation that will give the economy more autonomy over its future.
The Mo government will soon introduce the First Saskatchewan Act to make the country more independent from its natural resources. We also want the separation of provincial and federal powers as outlined in the Canadian Constitution, which is set out in provincial and Canadian law.
Alberta Prime Minister Daniel Smith's office is working to enact its own sovereignty laws, so her government hopes more provinces will follow Prairie's move to protect their jurisdiction. said.
"It's great to see other states like Saskatchewan follow Alberta's lead in defending the state's existing constitutional separation of powers," said a spokesman for Smith's office. He said in a statement to the Epoch Times.
"We know this is a top priority for our government, and we continue to want to see other jurisdictions do the same."
In a speech to members of the United Conservative Party (UCP) at the annual general meeting on October 22, Smith said: Was started about the sovereignty law she proposed. She first pitched the bill during her race for leadership of the UCP to oppose federal laws deemed harmful to states.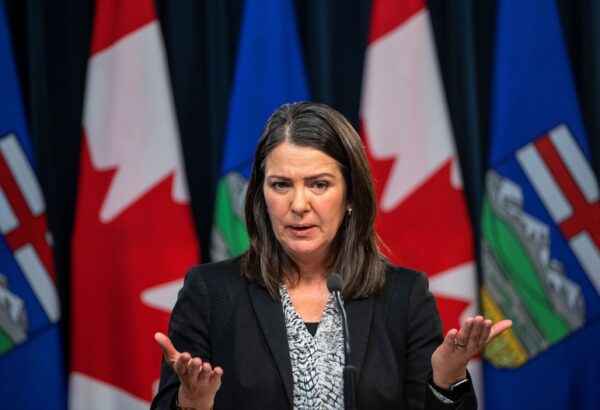 "If Ottawa announces policies or laws that attack our economy or violate the rights of our people, or if Ottawa attempts to take control of state-controlled sovereign territories, our UCP The government does not enforce those laws or policies in this state, Smith said on Oct. 22.
The government of Saskatchewan The First Saskatchewan Act would define that "Saskatchewan alone" would have exclusive jurisdiction over the future of its natural resources and economy.
Speech of the throne on October 26, Saskatchewan Lieutenant Russell Milastry said the law would draw jurisdictional lines and protect those lines based on the existing constitutional division of powers.
Milastry added that the bill "does not abolish or ignore the Constitution."
Moe said on October 26 that his government would "respect and obey all laws of the country" amid the changes.
"We are doing everything we can as a province to try to provide clarity to the investment community, Saskatchewan residents, and Canadians," he said.
Smith, on the other hand, He outlined plans to fight back in Ottawa on key policy issues like gun buyback programs. In a letter to the Cabinet on 27 October, the new prime minister said Alberta would be consistently treated as a lower level of government, locking in resources, undermining prosperity in the province and making the livelihoods of Albertans inaccessible. said it was making a unilateral federal decision to make it non-existent.
"On key policy issues, our government will discuss pushback strategies to address issues such as federal oil and gas emission caps, fertilizer cuts, and firearms confiscation programs," Smith said. writes Mr.
"Alberta has its own laws, policies, priorities and procedures."
Canadian Press contributed to this report.