[ad_1]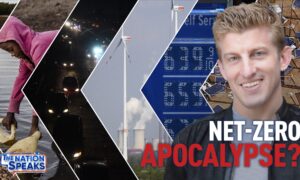 Happy Independence Day weekend from Nation Speaks.
Are fossil fuels destroying the planet, or are they helping humans thrive on the planet? That's to discuss with Alex Epstein, who has a bold discussion in his new book, The Future of Fossils: Why Humans in the World Need More Oil, Coal, and Natural Gas.
Next, please give us your opinion in the Q & A in the United States. Did the use of fossil fuels bring more harm and benefit to humankind?
Second, Minds.com is a social networking platform that brings together thinkers from different disciplines. They recently held an "Idea Festival" in New York City, and I caught up with the following provocative participants:
Former Democratic presidential candidate Tulsi Gabbard. Project Veritas James O'Keefe; Musician and radical activist Darryl Davis. Nick Gillespie, Editor of Reason Magazine.Coleman Hughes Host
Conversation with the Coleman Podcast; Margaret Kimberly, Executive Editor of the Black Agenda Report.
Finally, our second American Q & A returns to climate. Do you think all human impacts on the environment are bad?
* To access My List later, click the Save button below the video.
follow EpochTV Social media:
twitter: https://twitter.com/EpochTVus
Rumble: https://rumble.com/c/EpochTV
Truth Social: https://truthsocial.com/@EpochTV
Gettr: Gettr: https://gettr.com/user/epochtv
Facebook: https://www.facebook.com/EpochTVus
Gab: https://gab.com/EpochTV
telegram: https://t.me/EpochTV


[ad_2]