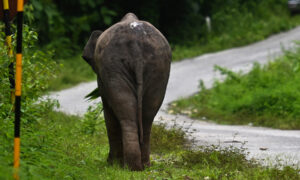 Four wild elephants escaped from a mud hole in Burma (also known as Myanmar) on Friday, prompted by villagers who dug an escape route.
Villagers in western Rakhine State usually avoid elephants when they encounter them in the woods, but fear they would have died if they had been trapped in a hole.
A video confirmed by Reuters showed four animals struggling one by one to secure a foothold on a slope.
Eventually, they all succeeded, temporarily turning to where the villagers were cheering, and then set out with their peers.
"We rescued elephants because they knew they were endangered around the world and were part of our state's heritage," said Elephant Pyo Tan. 40) told Reuters on the phone.
"The four animals were so cute that everyone in the village came to save their lives."
It was unknown how they fell into the hole.
Studies show that only hundreds of elephants remain in Rakhine State, down from thousands decades ago.