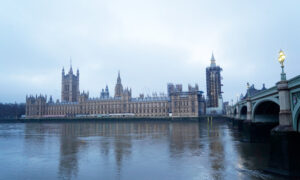 Anti-bullying, discrimination and sexual harassment workshops were also accused of being "a complete waste of time" and "favorite". Comments were made after 60 peers were reported to have fouled sovereign authorities for failing to complete the Valuing Everyone training. Baroness Boothroid, a former Commons speaker who recently had heart surgery, is said to be among them.
Sir Cormac addressed the issue when his peers were about to take a break at the end of the parliamentary session.
He warned that the issue of forced behavioral training was at risk of making the Lord a "smile".
Sir Cormac said, "I was obedient, but I felt the course was a complete waste of time. Look down, patronize, superficial, and familiar with the work of the Lord. It wasn't created for those who see it. "
He said the press suggested Lady Boothroid, "one of our most prominent members." He was being investigated with 60 other colleagues for not following and attending the online workshop.
"She missed the deadline not because she refused, but because she had medical health problems," he said.
Sir Cormac said in another "disturbing example" that he was unable to take the course before the deadline, but the Lord who took it later was still "blamed".
He said standards commissioner Lucy Scott Moncliffe warned officials that he would insult Congress if he commented to "insult the injury."
"I'm surprised she should make such a bullying comment," Sir Cormac told the house.
Sir Cormac urged the Lord's Action Committee to rethink the course and said he was not sympathetic to his bad-behavior.
However, if you want to continue compulsory education, you should obviously do it in-house instead of spending £ 750,000 on a consultant who "has little knowledge of Congress."
"It's completely unacceptable to elicit the reputation of our most prestigious members in this way," he added.
Sir Hamilton of Epsom, a former Tory minister, said "serious money" was being spent on the course and questioned whether they were worth it.
Sir Hamilton said the course he attended included a fictitious case of a fellow approaching a girl in a "lechery way" at the library.
He said this was "almost ridiculous to think" because if someone wants to get closer to a woman at home, they don't do it in public.
"I learned something from this course," said Sir Hamilton. "There is no such thing as a girl unless you are under the age of 14. It is inappropriate to call a woman over the age of 14 a girl.
"We can't tell women" It's a nice new hairstyle you have "or" I really like the dress you're wearing "because it's also inappropriate.
"This course was a completely expensive farce and shouldn't have started from scratch," he added, calling for abandonment.
Sir Mans, chair of the Action Committee, said comments would be returned to the committee for consideration.
He said some concerns had already been expressed about the nature of the training and these were communicated to the provider with some changes.
Trevor Mason