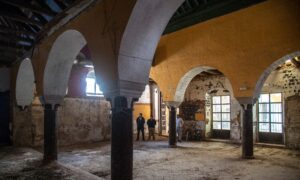 MADRID—Archaeologists in Utrera in southern Spain have discovered a 14th-century synagogue hidden inside a building. The building later became a church, hospital and most recently a bar.
Archaeologist Miguel Angel de Dios told journalists after years of analyzing the walls and floors of the building, "the first thing to check is the presence of a prayer room." .
"The basic elements of the synagogue, such as the entrance hall, or the surrounding benches revealed in this research, confirm that we are indeed in the chapel."
The only hint of the existence of a Jewish temple came in 1604 from the priest and historian Rodrigo Caro. He wrote that a hospital now stands where the Jews used to pray. There are only a few medieval synagogues left in Spain, including the cities of Toledo and Cordoba.
Utrera's synagogue was converted into a church in the 16th century, erasing all traces of its Jewish past, De Dios added. His team now wants to identify the pulpit and the baths used for the ritual.
"We now have scientific conviction that we are standing in a medieval synagogue," said José María Villalobos, mayor of the city of Utrera. he added.
In recent years, attracting tourists interested in Spain's Jewish past has become an important focus for towns with historical imprints.
In 1492, the Catholic monarchs of Spain, Queen Isabella I of Castile and Ferdinand II of Aragon, decreed that 200,000 Jews in Spain should either convert to Christianity or be exiled.
Spain has been trying in recent years to rectify what the government called a "historic mistake". Granted, 132,226 people applied.