A group of armed detainees caused an "unacceptable" level of "violence and disorder" at a London immigration center during the blackout, a British minister said.
The incident occurred on the night of 4 November at Harmondsworth Detention Center near Heathrow Airport.
According to British media reports, a group of detainees left the room and went out into the courtyard armed with various weapons.
None of the detainees left the facility during the incident and were subsequently returned to their rooms.
Immigration Minister Robert Jenrick said on 5 November that those responsible for the disturbance would be "held to account".
He said in a statement:
"People should be reassured that criminals and people awaiting deportation from the UK are being held safely.
"The perpetrators of this disturbance will be held accountable and, where appropriate, deported from the country as soon as practicable."
Police said they were present at the incident at 7:45 p.m. on Nov. 4, but made no arrests.
The interior ministry said detainees would be transferred to other centers while engineers repaired power supplies and repaired damage.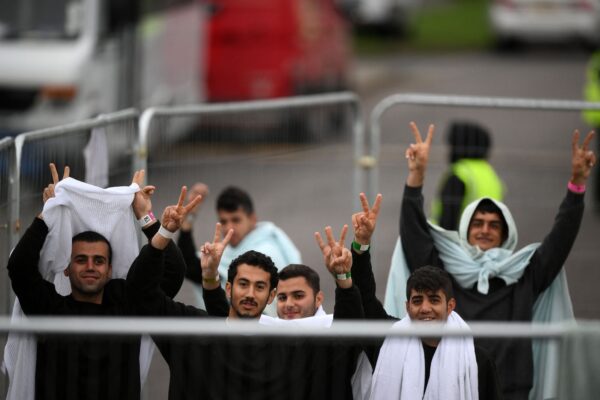 'cheek'
This came after illegal immigration and immigration advocates complained about the situation at another immigration center.
Campaigners are threatening legal action against UK Home Secretary Suella Braverman over the situation at the Manston Reservation Center for Illegal Immigration in Kent.
Detention Action, NGOs, and lawyers representing women detained in Manston sent an urgent pre-trial letter to the Home Office on 1 November, calling for "unlawful treatment of those detained in institutions" and "severely deficient treatment." denounced a certain state. " there.
But Chris Philippe, the UK Home Office minister, said the center was "legally compliant" and that Britain's asylum facilities were "better than most European countries".
In an interview with Times Radio on November 4, Philip said:
He said that people who passed through other countries in Europe "don't even need to come here" and that the numbers were "overwhelming".
"We spend between £2bn and £3bn a year caring for people who enter the country illegally and unnecessarily," he added.
PA Media contributed to this report.