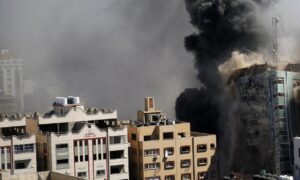 The Associated Press denied knowledge that the Jara Tower, destroyed by Israeli airstrikes, was also shared by the designated terrorist group Hamas, as Israel's top leaders claim.
Associated Press CEO Gary Pruitt issued a statement over the weekend, denying that the news agency knew that Hamas terrorists were operating in a building in the Gaza Strip. Jara Tower also hosted Qatar-backed media outlet Al Jazeera and other media outlets.
However, the Israeli Defense Forces (IDF) told local media that the Jara Tower had hidden "military assets" belonging to Hamas and used AP, Al Jazeera, and other media outlets as "human shields." .. IDF continued, "The Hamas terrorist group has deliberately placed its military assets in the center of the citizens of the Gaza Strip."
After providing civilians with advance warning and time to evacuate, IDF fighters attacked skyscrapers, including Hamas' military intelligence assets.

The building contained a private media office that Hamas was hiding behind and deliberately using as a human shield. pic.twitter.com/zeDjEquePD

— Israel Defense Forces (@IDF) May 15, 2021
But Pruit Said in a statement "They were shocked and frightened by the Israeli army targeting and destroying buildings containing AP stations and other media outlets in Gaza," he said. I knew for a while and knew that the journalist was there. I was warned that the building would be hit. "
According to AP, all employees and freelancers were evacuated before the building was attacked.
"The Israeli government says the building contains Hamas military intelligence assets," Pluit said. "We asked the Israeli government to provide evidence. The AP bureau has lived in this building for 15 years."
AP added that he was unaware that Hamas was inside the building and "we are checking as aggressively as possible." Never deliberately endanger a journalist. "
However, IDF has Jara Tower "Important foundation" For Hamas and fellow terrorist groups Islamic Jihad Strategy He said he warned civilians before the strike in Gaza.
In 2014, AP Jerusalem editor Matti Friedman wrote about how Hamas manipulates the media operating in Gaza.
According to Friedman, "In the round before the Battle of Gaza, Hamas learned that international coverage from the territory could be shaped to suit its needs. It will be carried out in this summer's war. Deaf lesson. Most of the press work in Gaza is done by local correctors, translators and reporters. The group rarely needs to threaten Westerners because they never dare to cross Hamas. "
The article then continued to suggest that the international press has historically described Israel as an invader in previous conflicts with Palestinians.
"It's easier to get the other photographers out of the box and let the pictures tell the story. There are dead people here, and Israel killed them," Friedman said.
As the fighting intensified, Israel said Hamas and other groups were defending themselves after recently launching numerous rockets into the private sector.
The Epoch Times contacted IDF for comment on Pluit's allegations.