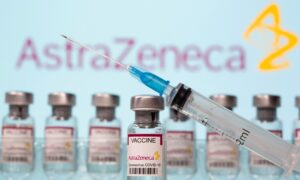 Zurich — A modified version of AstraZeneca's COVID-19 vaccine tuned to fight the first documented coronavirus variant in South Africa could be ready by the end of 2021, AstraZeneca of Austria Officials said in an interview released on Sunday.
Sara Walters, Austria's country manager for AstraZeneca, has so far shown that existing AstraZeneca vaccines are less effective against the more infectious variants first reported in South Africa. I told the Kurier newspaper.
"In the meantime, AstraZeneca and Oxford University have begun to change vaccines for South African variants and expect to be ready by the end of the year if necessary," Walters told Kurier.
Walters, coupled with the very high demand resulting from the coronavirus pandemic, has blamed challenges for the "complex process" of vaccine production, including delays in the delivery of AstraZeneca shots in the European Union.
"We had to work without stocking supplies, and as a result we couldn't make up for the unexpected," she said. "We are confident that we will fulfill our commitment to administer 300 million doses to the European Union this year."
Kurier's interview did not directly address the ongoing investigation into health concerns regarding AstraZeneca's shots. The EU has labeled vaccines with warnings about possible associations with very rare blood clots, Denmark has stopped using vaccines altogether, and the UK wants people under the age of 30 to get another brand of vaccine I advised.
Asked about thousands of Austrian people canceling AstraZeneca shot reservations, Walters said the company's plan "continues to transparently provide doctors with information about efficacy and safety, people. To be able to properly inform the benefits and risks. "
Healthcare regulators in the United Kingdom and the European Union have stated that the overall benefits of using the vaccine outweigh the risk of rare coagulation.
Report by John Miller