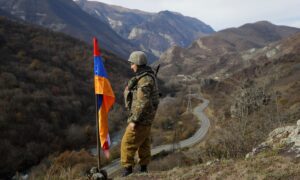 MOSCOW — At least three people were killed on Sunday in a shootout between Azerbaijani soldiers and police in Nagorno-Karabakh, the Armenian interior ministry said.
Both sides gave different accounts of what happened.Azerbaijan's foreign ministry said the shootout occurred along a dirt auxiliary road leading from Armenia to Stepanakert, the capital of Nagorno-Karabakh, with soldiers transporting weapons. He said it happened when he went to check the suspected vehicle.
Armenia's interior ministry described the shooting as an "ambush" and said three police officers from the region's passport department had been killed.
Azerbaijan said its troops "suffered losses" but did not give specific numbers.
The clashes add to already high tensions between Armenia and Azerbaijan, which fought a war over Nagorno-Karabakh that killed more than 6,000 people in 2020. The war ended in a Russian-brokered truce, with Armenia abandoning the territories surrounding the region.
Nagorno-Karabakh lies within Azerbaijan, but since 1994 the Armenian National Army, backed by Armenia, has controlled the region and surrounding areas.
An agreement to end the 2020 war left the winding road known as the Rachin Corridor as the only permitted connection between Nagorno-Karabakh and Armenia.
But the road has been largely blocked to traffic since December by protesters believed to be backed by Azerbaijani authorities.