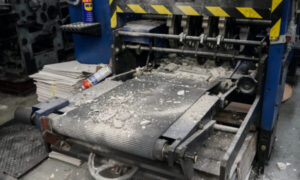 The Epoch Times attack on the Hong Kong office was a "litmus test" for the territorial governing body, an Australian politician called on the federal government to blame the attack.
Liberal National Party of Queensland MP George Christensen told The Epoch Times that the world is seeing an intensifying attack on Hong Kong's free press, including Jimmy Lai, and should be blamed, including the Australian government. ..
"The attacks on the free press continue to be carried out by the Chinese Communist Party in Hong Kong and should be blamed," Kristensen said.
"Hong Kong police investigating this issue will be a litmus test of whether the Hong Kong government is a perfect Patty for the Chinese Communist Party," he added.
Christensen's sentiment was repeated by Tasmanian Liberal Senator Eric Abets. Eric Abets told The Epoch Times that the attack was a deliberate incident of vandalism.
"This is an example of a deliberate vandalism aimed at intimidating and silencing those who oppose Hong Kong's freedom-destroying campaign," said Abets.
"The Epoch Times has been the target of attacks many times over the years. This is certainly another way to limit public information and debate that is critical of what has been given to Hong Kong. It is a collaborative effort.
"As one of the few independent outlets left in Hong Kong that is critical of the Chinese Communist Party, we are deeply concerned about how free and open media can continue to operate in the face of such attacks. I'm doing it, "Abets said.
Both Kristensen and Abets are members of the global policy alliance on China, and the Epoch Times strike states that Hong Kong authorities have fallen under the control of China's communist regime.
"Freedom of the press is an absolute requirement in any state that respects the rule of law. If the Hong Kong authorities are truly independent defenders of the democratic system, they will defend the Epoch Times." Said the IPAC. "They won't tell you everything you need to know: Hong Kong has slipped into the hands of an authoritarian Communist Party that doesn't tolerate criticism."
The April 12 attack on the Epoch Times printing facility has been blamed by political leaders, media watchdogs, and government groups around the world, including the U.S. Department of State, Reporters Without Borders, and former U.S. Secretary of State Mike Pompeo. ..
During the attack, the facility's Epoch Times staff were threatened with a knife point, the computer was destroyed with a hammer, and the printing press was damaged with a concrete mixture. Computer parts were also stolen.
The Hong Kong edition of The Epoch Times resumed publication on April 17, after declaring that it would not succumb to violent threats.