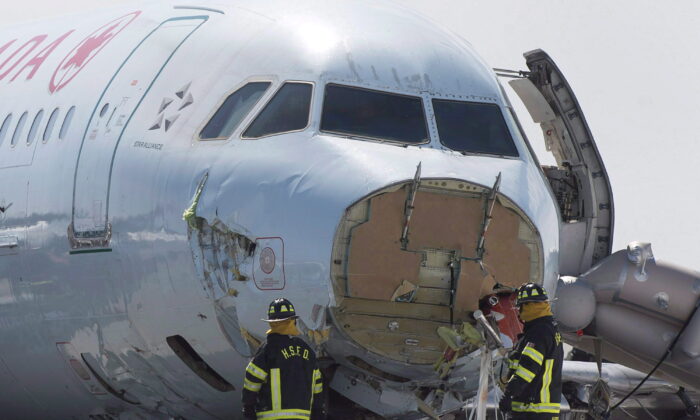 Airport firefighters work at the crash site of the Air Canada AC624 that crashed early Sunday morning during a snowstorm at Stanfield International Airport in Halifax on March 30, 2015. (The Canadian Press/Andrew Vaughan)
OTTAWA — Canada's Supreme Court has said an audio recording of the cockpit of an Air Canada plane that crashed on the Halifax runway could be disclosed to parties in a class action lawsuit.
Dozens were injured in the March 2015 crash, which led to lawsuits against Air Canada, aircraft manufacturer Airbus SAS and others.
A statutory privilege of confidentiality applies to cockpit audio recordings. That means you need court or coroner's permission to use it in legal proceedings.
Airbus SAS went to court to obtain access to the audio recordings, claiming it was necessary for a fair trial, but was opposed by the Federal Transportation Safety Board.
The judge refused to allow the safety committee to file privately and ordered the parties to disclose the recordings based on their content being related to the class action lawsuit.
The Nova Scotia Court of Appeals upheld both the refusal to hear the undisclosed filings and the disclosure order, prompting the Board to take the case to the Supreme Court.