[ad_1]

Hundreds of construction workers force John Setoka, Secretary of State for Victorian Construction, Forestry, Maritime, Mining and Energy Coalition (CFMMEU), to prevent all construction sites from September 23 I asked him to resign because the vaccination rules will be enforced.
The move follows last week's protest, with chairs and tables in the morning to show that a group of construction workers are opposed to government-imposed sector restrictions on the streets of CBD in Melbourne. I drank tea.
However, protests outside the CFMMEU office on Elizabeth Street on September 20 intensified after Setoka's attempt to calm the protesters failed.
According to the video posted, Setoka shouted, "Please calm down, everyone." telegram.. "We are not enemies."
"I have never said that I support mandatory vaccination," he said.
Protesters then shouted "Dana Andrews." [expletive], ""[expletive] "Jab" and "Stand Down John". Protesters also urged Setka to lift COVID restrictions or shut down the entire industry.
"We've been fighting hard to keep the industry moving, so everyone can keep working," Setka replied.
Protesters allegedly threw bottles and trays at him and other union representatives as Setoka tried to leave the crowd and enter the CFMMEU building. At this point, the glass door to the building was allegedly broken.
By 1:00 pm, protesters had filled both sides of Elizabeth Street, and union representatives stood in front of the building to keep opposition out.
It's unclear if everyone protesting was a construction worker after a message about the Melbourne Freedom Rally Telegram Group urged anti-lockdown protesters to attend the rally.
Protester representatives were allowed to meet with union officials shortly before 2:00 pm
The riot police were later called to disperse the crowd, and police used pepper spray and rubber bullets to move the crowd.
However, some construction workers said they would not be deterred and they would return daily until their petition was answered.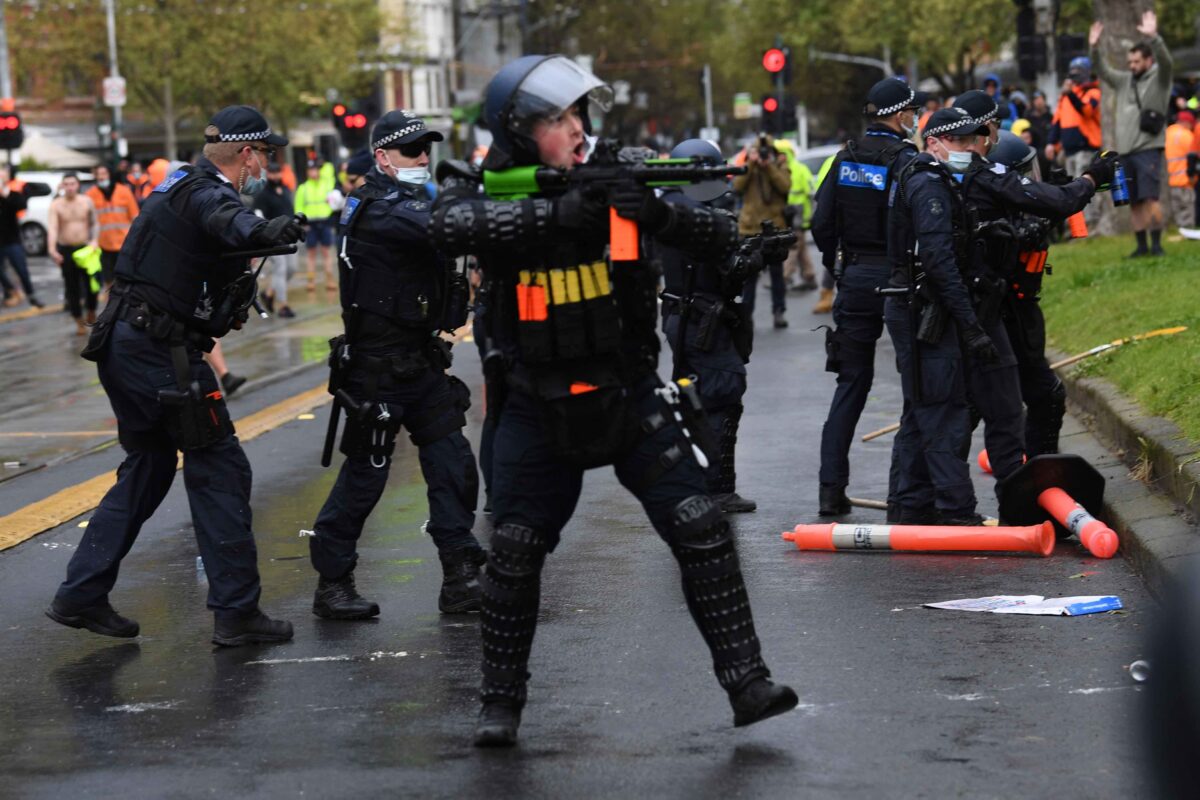 Officials guarding the entrance to the building sought evacuation indoors shortly before 4 pm after a bottle was thrown at an already destroyed glass door.
Protesters also appeared to be opposed to each other as several small battles broke out in the crowd of hibis shirts.
Prime Minister Daniel Andrews told reporters during the daily coronavirus update that the protests were "unwise. They are not safe."
"The industry is open at 25 percent. I want to be 50. Vaccination is a very important part of that."
"Protests don't work. Vaccination works according to the rules. That's how you stay open, and that's how you get open."
Liberal Democratic Party David Limbrick, who participated in the protest, said Real Luxhan The Andrews Labor government roadmap was not a roadmap to freedom, but a "roadmap to isolated societies in medical apartheid."
"What we see is that people are forced to treat without complete and free consent."
The union issued a statement shortly after 4 pm, stating that it has always supported freedom of choice regarding vaccination.
"We will not be threatened by outside militants who try to intimidate the union by disseminating false information and lying about the union's position," the statement said.
"CFMMEU always insists on safety, work and freedom of choice."
AAP contributed to this report.
[ad_2]