Fully vaccinated foreign tourists will be allowed to visit Australia from February 21st, after a lockout of almost two years from the start of the pandemic.
Prime Minister Scott Morrison announced after a meeting of the Cabinet's National Security Commission on February 7.
Since late 2021, entry into the country has been restricted primarily to citizens, permanent residents and families, and subsequently to international students, backpackers and migrant workers.
It is expected to be open to all remaining visa holders and benefit the struggling international tourism sector in the future.
"The tourism industry is looking forward to it and in the next two weeks we will have the opportunity for visitors to come and be ready to welcome foreign visitors to Australia," said Prime Minister Morrison. .. He told Canberra reporters.
"To come to Australia, you need to be double vaccinated. That's the rule. In a veiled reference to an event involving tennis star Novak Djokovic for the Australian Open. He added.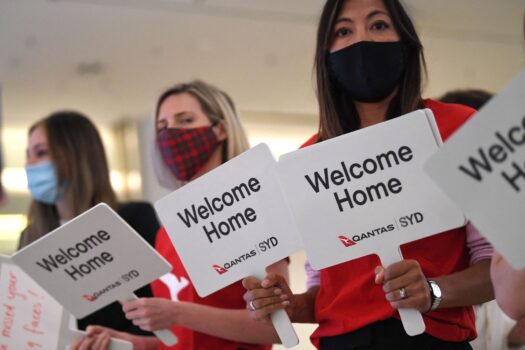 The Prime Minister also said there were no plans to change the definition of "complete vaccination" to include boosters. The border is controlled by the federal government.
"For those who are double vaccinated, there is no greater risk than those who are already in Australia," he said.
"I think it's a wise move and a very important move. We can do our best this year to get Australia back to the normal position possible."
Unvaccinated travelers must apply for an exemption to come to Australia and be quarantined by the hotel if they are granted entry permission.
The state-based cap on quarantine will continue, and each state and territory government will determine the number of visitors allowed.
Australian Labor Party (ALP) Interior Minister Kristina Keneally said the federal opposition is looking forward to a "safe reopening" of the border.
"After two years of border turmoil and Mr. Morrison outsourcing border decisions to the state, every effort to provide more assurance to families and businesses is welcome," she wrote on Twitter.
"Currently, overseas travel is only done at 15% of pre-COVID levels, so we need to consider the staff working in the industry," she added. "Are our airports, Australian Border Forces, and airlines ready to scale up in a safe way at this time? Can all staff be trained in time?"
The announcement was made in the same way that cruise giant Carnival Cruise withdrew its last ship from Australian waters over the weekend and redeployed it in Florida, USA.
"Operations are still suspended due to the overwhelming success of resuming cruising in the United States and continued uncertainty in Australia. Carnival Spirit It will be deployed in Jacksonville, Florida and will begin cruising on March 7, 2022, "the company said. In the statement..
"Carnival Cruise Line looks forward to resuming guest activities in Australia if government officials can clarify."