Australian opposition leader Peter Dutton backs meetings between Prime Minister Anthony Albanese and Chinese President Xi Jinping, but says the center-right coalition remains "realistic" about China's actions rice field.
This means the Albanians met with President Xi earlier this week on a number of issues, from human rights issues in Xinjiang to the detention of Chinese-Australians to the potential lifting of trade sanctions that blocked $20 billion (US$13.5 billion). After raising the issue with Beijing. ) value of goods entering the Chinese market.
The coalition leader said on Sunday that China had "difficulties" in recent years with Canada, New Zealand, the United States, the United Kingdom, Australia and many others.
"We want a normalized relationship, we want a good business relationship," said Dutton. sky news on sunday. "But most of all, we want peace in the region, and the Prime Minister will promote it like any other world leader. Of course we support it, but if China Be realistic about what they say, what they do, and the environment we live in."
Referring to the Turnbull government's decision with Huawei regarding Australia's 5G network, Dutton said, "Australia has always stood by its values ​​and we are not going to compromise on that.
"Let's be realistic about the situation," Dutton said. "It was just a few days before the meeting [with Albanese] Xi Jinping donned his military uniform and prepared his people for conflict. "
His comments were echoed by opposition diplomatic spokesman Simon Birmingham, who suggested Australia should impose sanctions against China under the Magnitsky Act.
The Magnitsky Act allows governments to impose economic sanctions against individuals or companies deemed human rights abusers. Australian law currently applies only to Russians involved in serious corruption and human rights violations.
Birmingham on Sunday Said Australia needs to be firm in 'pointing out egregious violations by others', including on human rights issues.
"Australia lags far behind like-minded and peer countries in terms of actions related to Iran," he told the ABC Insider show.
"Many have made it clear that they do not want sanctions that could hurt the Iranian people in terms of economic sanctions, but they should not be targeted, as we did in response to the Russian aggression. I believe that there are many cases where personal sanctions are applied in Ukraine."
China policy experts, meanwhile, say that a diplomatic thaw with Beijing should not be the ultimate goal of US and Australian leaders, instead getting the Chinese Communist Party (CCP) to uphold international rules on human rights and trade. He said the focus should be on
John Lee, a former senior adviser to Foreign Minister Julie Bishop, said the recent meetings between U.S. President Joe Biden, Australian Prime Minister Anthony Albanese and Chinese President Xi Jinping will be a stepping stone to resuming normal diplomatic communications. He said it was just a step, and that there would be a big change in bilateral relations. It was unlikely.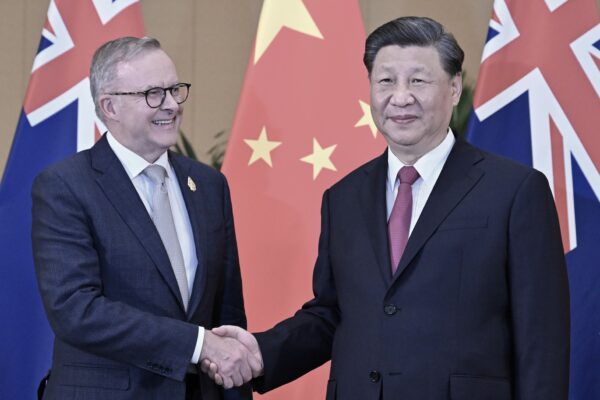 "A verbal agreement with Xi should not be trusted or taken seriously given how long Chinese leaders have said one thing and done another," he said. He told the Epoch Times in an email.
"Rather than seeking a verbal understanding with Xi Jinping, President Biden will work more closely with allies and partners in Asia to limit China's strategic options and encourage Beijing to use force to achieve its objectives." We need to focus on discussing ways to discourage people from considering
Daniel Y. Teng contributed to this report.