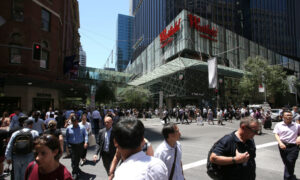 The Reserve Bank of Australia (RBA) issued a quarterly monetary policy statement revealing that Australia has improved significantly in the recession caused by the CCP virus pandemic.
"The economy has outstripped all the upturn scenarios we have described," said Guy Debelle, vice president of RBA, on May 6, the day before the RBA's quarterly statement was released.
GDP has returned to pre-pandemic levels, labor market participation has increased to record highs, with an employment rate of 5.6%, 0.5 points higher than pre-pandemic levels.
"These are far better labor market results than they have happened in other countries," Debel said.
However, the RBA wants to see higher wage growth before it begins tightening monetary policy. Keep in mind that while the Australian economy is experiencing better employment performance than most other countries, Australian wage growth is significantly weaker than in the United States and other countries.
Debelle outlined the role of RBA's policies in supporting this recovery, noting that banks offered lower borrowing costs, supported household and corporate credit flows, and boosted cash flow.
"The monetary policy package worked as widely as expected to support the economy." Debel said..
"But we will need a lot of financial support for quite some time to come," he added.
Prior to the pandemic, high population growth, mainly due to immigrants, Important factors Why did Australia's economy outperform other developed countries at the time? However, population growth is expected to drop to 0.2% in 2021.
Immigrants were used to address labor market skills deficiencies in which international students played an important role.
When borders are closed, labor shortages are usually observed in industries that employ the majority of foreign workers.
International students were mainly engaged in food, hospitality and management services. Working vacationers were usually drawn to the agriculture, food and hospitality industries.
The RBA said the supply of domestic workers could meet short-term demand, but wage pressure could emerge more quickly if supply remained restrained.
"Especially, and above all in areas where domestic workers lack skills, where considerable time is spent improving the skills of domestic workers." RBA said In that monetary policy statement.
Local Australians may benefit from a shortage of international students, despite a desperate call to reopen borders and allow foreign workers to return, business columnist Robert Gottliebsen Sen Written in Australian..
Many companies have previously relied on providing abundant cheap labor to international students through cash-paid wages, driving out local Australians in certain industries.
"Currently, hotels, restaurants and cafes in many capital and provincial cities are having a hard time finding a workforce as the supply of international students has significantly reduced pools," Gottliepsen said. "They close the door or find a workforce among young Australians." Taap