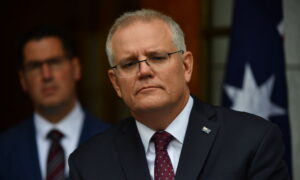 The Australian Government is spending $ 1 billion on the development of its own guided missile production industry in the face of a deteriorating strategic environment.
The Morrison government is estimated to partner with global arms makers to create new facilities, generating $ 40 billion in local production and export sales over the next 20 years.
Local facilities will also give Australia the ability to manufacture weapons in their own country rather than importing them from abroad.
"As the COVID-19 pandemic shows, the ability to be self-reliant, whether in vaccine development or in Australia's defense, is essential to meet our own requirements in a changing global environment," Scott Morrison said. Prime Minister Said..
"We now need to advance the creation of sovereign-guided weapons capabilities as a priority and accelerate this process according to the ideas initially considered in the unit structure plan."
Federal opposition leader Anthony Albanese supported the move by saying, "Australia needs to be more resilient in our defense, and this announcement is part of it."
Global weapons makers Raytheon, Lockheed Martin, BAE Systems and Kongsberg will bid on this project.
Morrison announced during a visit to Raytheon's Joint Integration Center in Adelaide, Australia's home to defense manufacturing.
As part of the visit, the Morrison government signed a $ 111 million maintenance contract with Raytheon Australia to support the Raytheon-Kongsburg National Surface-to-Air Missile System (NASAM), a co-developed short-range air defense weapons system. Was announced.
"The Joint Integration Center will contribute to the development of some of Australia's most important defense capabilities," the newly anointed Defense Minister Peter Dutton said in a statement.
"It will serve as Raytheon's main site for manufacturing, assembly and system integration in Australia and will play a vital role in supporting and maintaining the new short-range ground-based air defense capabilities."
According to the Australian Strategic Policy Institute, Australia Spend $ 100 billion The next 20 years on missiles and guided weapons.
This is behind the federal government's 2020 strategic update released last July, promising $ 270 billion to upgrade the Wehrmacht over the next decade.
Record investment corresponds to what Prime Minister Morrison described as a "poor, more dangerous, and more chaotic" world.
"The Indo-Pacific is the epicenter of growing strategic competition," he said.
"Recently, tensions over territorial disputes have increased throughout the Indo-Pacific region, as seen at the conflict borders between India and China, the South China Sea and the East China Sea."