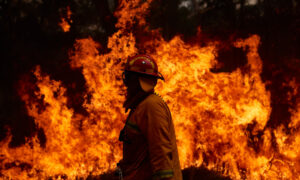 The New South Wales (NSW) government has referred the state's corruption watchdog to a damning report about its own handling of Black Summer wildfire restoration grants, following the threat of referrals from opposition parties.
Former Deputy Prime Minister John Barillaro's office intervened in the program, inexplicably creating a minimum of $1 million (US$692,000) for expedited wildfire restoration projects, New South Wales Auditor General reports It became clear that
The criteria cut all applications from labor voters from the first round of $100 million (US$69.2 million), including in the hard-hit Blue Mountains and Tenterfield areas.
The audit, which was submitted to the New South Wales Legislature on Thursday, found 21 priority projects worth more than $95 million (US$65.8 million) in coalition seats, with one proposed project worth $12.5 million (US$8.6 million). indicated that the project is in independent voters.
Labor leader Chris Mins has threatened to refer the matter to the Independent Anti-Corruption Commission (ICAC) if the former National Party leader does not answer questions about the programme.
But the prime minister and cabinet departments had already handed the report over to the corruption watchdog on Friday, a spokesman for Prime Minister Dominique Perrotte told AAP.
A number of measures to strengthen the integrity of the subsidy program have already been implemented by the prime minister, addressing the issues in the report and consistent with the audit general's recommendations, a spokesman for the prime minister said. Stated.
"The Prime Minister's record of helping communities hit by natural disasters is well known and the NSW Government will continue to support all communities in need of record funding," the spokesperson added.
"Labour should not politicize the ICAC, as ICAC chief commissioner John Hatzistergos said it was 'inappropriate to weaponize commission inquiries for attention or political gain'. We should listen to recent advice."
Earlier, New South Wales Deputy Prime Minister Paul Toole also defended the treatment of government subsidies, citing new guidelines adopted by the government.
After an audit, both Blue Mountains and Tenterfield received funding for projects totaling over $16 million (US$11 million) in the program's final round, eight months after initial grants were awarded. I understand.
"As part of these programs, significant funds have been made available to communities affected by the wildfires," Tool told reporters in Orange on Friday.
Tool said the government had reviewed the subsidy guidelines and implemented changes.
Mings said a formal inquiry into the decision by Barillaro's office is needed.
"We need an explanation. If we don't have an explanation, we will refer it to ICAC," Minns told reporters on Friday.
Mings said the Inspector General's disgusting report couldn't disappear "as if it hadn't been written in the first place."
Barillaro has not publicly commented on the report.
The $541.8 million Bushfire Regional Economic Recovery Program was jointly funded by state and federal governments and administered by NSW.
Prime Minister Anthony Albanese said disaster relief should always be distributed as needed.
"We all have a responsibility to get it where it's needed, not politically," Albanese told reporters after the national ministerial meeting in Canberra.
Former coalition minister and MP Vega, Andrew Constance, said it was "unbelievable" that party politics appeared to have stopped distributing emergency wildfire subsidies to some communities.
In Vega Valley Shire, a liberal-controlled area with 500 homes lost, the only project to move forward quickly was a $3 million proposal with neighboring Snowy Valley.
"I can't believe it and I know the fire brigade can't believe it," Constance told 2GB.
Constance, who will retire in 2021, said Barillaro spearheaded the state's recovery and took the necessary steps, but now needs to explain himself.
The report acknowledged that most of the worst-affected areas were held by coalition lawmakers, but devastated areas were among the excluded.