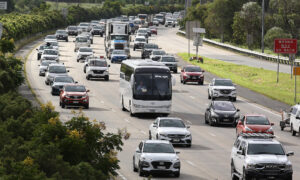 An Australian off-duty police officer was charged with drunk driving during a five-day Easter Road Safety Blitz in the Northern Territory.
A 46-year-old police officer underwent a roadside breath test on Friday. It was set up as part of the region's five-day Taren operation for drinking and drug driving, vehicle registration, and road resistance.
Police say he returned a high range of readings of 0.158 or more than three times the statutory limit.
A police officer was charged with heavy drunk driving and his driver's license was quickly disqualified.
He was released on bail to appear in the Darwin District Court on April 21, and was instructed to take a vacation.
The Easter holiday period is one of the busiest times on Australian roads, with frequent collisions.
Three people, including a young child, died after a car hit a tree on the south coast of New South Wales (NSW).
According to police, the Honda Accord departed the Princess Highway on Lake Tabouri, south of Uradura, just before 4:30 am on Saturday.
A female driver and two passengers (male and young child) died on the scene. They have not yet been officially identified.
The fourth occupant of the car was airlifted to the hospital. His condition is still unknown.
No other vehicle was involved in the collision.
Investigators have established a crime scene where investigations are ongoing to determine the circumstances surrounding the tragedy.
The road is closed.
A report will be prepared for the coroner's information.
A woman also died in a hospital Saturday morning after a single-vehicle crash in southern Sydney, police said.
It was a passenger in a car that collided with a utility pole on Ramsgate Road in Ramsgate on Friday night.
A modern 64-year-old driver is also suspected of having a spinal cord injury and is at St. George's Hospital.
AAP