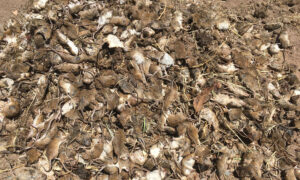 As Western NSW addresses the catastrophic murine plague, the government is investing in groundbreaking genetic biocontrol research that could change Australia's pest management.
Agriculture Minister Adam Marshall said the NSW state government will provide $ 1.8 million to the project to expedite the delivery of next-generation "gene drive" technology to control future epidemics.
"The government has invested $ 50 million in a series of aid measures, not only to mitigate the effects of mice currently crawling most of NSW, but also to ensure the impact of future population surges. It's also about creating options to mitigate, "he said. Thursday.
In the past, farmers had to rely on feeding and traps to control rat invasion, but the government is now "accelerating important research to bring rat extermination to the 21st century." "There is," he said.
A three-year program of genetic biocontrol research identifies fast-acting gene drives designed to spread genetic traits throughout the population at a higher rate than normal.
Marshall also said that he would use advanced computer modeling to investigate the possibility of transferring technology to other pest species such as black rats, rabbits and stray cats.
"Using targeted gene drives, scientists aim to disrupt the mouse reproductive cycle and keep populations at controllable levels," he said.
"There must be a better way. That's why we support science to provide solutions."
This study tests two strategies for population control and recommends at least one for future suppression of mice.
The "X shredder" approach eliminates sperm that carry the X chromosome and produces more male offspring than females.
The "female infertility" approach spreads genetically modified organisms that ultimately make women infertile.
Professor Paul Thomas, a principal investigator at the University of Adelaide, says both approaches have been shown to suppress mice using sophisticated computer simulations.
Marshall said state-of-the-art solutions mean that future murine plagues can be eradicated before they begin, and that solutions could be transferred to other species such as rats, rabbits and stray cats.
"Pest management across New South Wales and Australia can change forever," he said.
The study will be led by the University of Adelaide, CSIRO, and the Invasive Species Solution Center.
Meanwhile, the government is awaiting approval from the Australian Department of Pesticides and Veterinary Medicine for the use of bromaziolone, a chemical that Marshall likens to "napalm."
However, experts warn that poisons act through the food chain and pose a danger to livestock pets, wildlife, and anything that preys on mice.