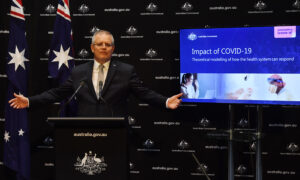 The National Cabinet has agreed to make many changes to Australia's COVID-19 vaccination program, including options for vaccination of people over the age of 50.
"The National Cabinet has in principle agreed to a series of changes to Australia's COVID-19 vaccine strategy, which will be submitted for approval at the next National Cabinet Meeting (Thursday)," said Prime Minister Scott Morrison. Said After meeting with state and territory ministers on April 19.
Preparation of the mass vaccination site is one of the proposed changes to be discussed on April 22nd.
Morrison said vaccination of vulnerable groups under Phases 1a and 1b was also a priority and general practice was the primary model for deployment.
In addition, medical advice remains that "AstraZeneca COVID-19 vaccine is safe and recommended for Australians over the age of 50, and all states continue to prioritize AstraZeneca over Australians over the age of 50." I am.
The statement was "likely linked" by the Vaccine Safety Research Group (VSIG) to the death of a 48-year-old NSW woman who had blood clots after receiving the AstraZeneca vaccine and the vaccine itself. It was announced a few days after discovering the correlation.
The prime minister warned the public by "making a conclusion" while authorities were still investigating the case.
Nonetheless, the federal government updated its medical advice on the AstraZeneca vaccine earlier this month, stating that it is not desirable for people under the age of 50 due to the risk of rare thrombotic disorders.
Vaccine deployment continues to "expand"
Australia is currently immunizing frontline healthcare workers, quarantine workers, elderly and disabled care residents, and people over the age of 70 under Phases 1a and 1b of the program.
However, Phase 2a will proceed towards the end of the year.
"Australia's COVID-19 vaccine deployment continues to expand," Morrison said. "The number of management sites continues to grow with 4,500 general practice, general practice breathing centers, and Aboriginal medical services currently receiving the COVID-19 vaccine."
However, Commonwealth Labor Party spokesman Mark Butler said there was a serious problem with the flow of vaccine supply and needed to be fixed.
"I talked to many healthcare providers, large general practitioner clinics, and state clinics. They are set up to give so many vaccinations," he said.
"Some people take 50 or 100 times a week. That's not enough."
NSW Prime Minister Gladys Beregikrian said NSW has the capacity of a mass immunization hub and called on other states to continue.
"Given that people over the age of 50 have no problem with AstraZeneca and Australia currently has a significant supply, we really need to crack down on it," she said. ..
Victoria will resume deploying AstraZeneca Shots to eligible people under the age of 50 after being suspended on April 9 due to a blood clot problem on April 21.
Three mass vaccination sites offering AstraZeneca vaccine will also open its doors to Phase 1a and 1b Victorian people on Wednesday.
To date, Australia has received 1,589,252 COVID-19 vaccines.
AAP contributed to this report.