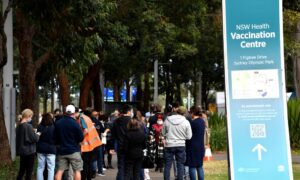 Australian companies are reaching out to provide a public vaccination site to the local community as deployment is expected to expand in September.
Treasury Secretary Josh Frydenberg and Vice Admiral John Frydenberg met with business leaders to discuss how the industry could participate in national vaccine deployment efforts.
"Federal GPs and hubs, and state and territory clinics will continue to be the backbone of the plan," Frewen told reporters today. "But I … I think it's really important for people to have more diverse ways to access vaccines."
Tens of millions of Pfizer and the unapproved Moderna vaccine will arrive in September. However, there are concerns about the shortage of vaccine workers needed to accelerate deployment.
Prior to today's meeting, Woolworths had already offered to set up a public vaccine pop-up hub for the government.
"As Australia's largest private employer, we have been deploying influenza vaccinations to our employees for many years with professional healthcare providers," said Woolworths Group COVID Response Director. Ross Spencer said In the statement.
"We welcome the opportunity to do the same with the COVID vaccine, especially for front-line teams that provide essential services to the Australian community."
According to Frydenberg, Wesfarmers also provided the opportunity to set up vaccination sites at Bunnings and Officeworks.
"It was agreed by all the members who attended that the company would write to all workers about the importance of vaccination," Frydenberg said, with some agreeing to reach out to the customer base. I added that I did.
However, Innes Willox, CEO of the Australian Industrial Group, said the government now needs to provide these companies with the same compensation protection as the medical industry.
"Workers' Accident Compensation does not provide companies with adequate or affordable protection against adverse vaccine reactions." Willox said.. "Companies need the same compensation that the government itself gives to doctors and pharmaceutical companies."
The accountant also revealed that there was extensive debate about businesses to incentivize customers to get jabs, such as airlines offering free mileage points and other benefits.
"Many companies have come up with very interesting and inspiring ideas about how resources can be leveraged," said Frydenberg.
Business leaders attending the conference include the heads of the Big Four, supermarket giants Coles and Woolworths, airlines Qantas and Virgin, and telephone giants Telstra and Optus.