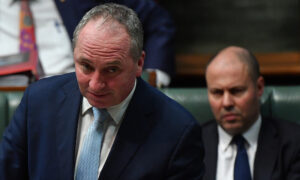 Australia's Deputy Prime Minister Barnaby Joyce has revealed that he was fined $ 200 for not wearing a face mask while paying for petrol.
Joyce Told Sky News On June 29, he forgot to wear a mask while at the Caltex gas station.
"On my way to the airport, I forgot to wear a mask and hit $ 200," he said.
Police checked CCTV at the service station and said they fined a 54-year-old man $ 200 for violating an order under NSW Public Health Act.
This is because a delta variant of the CCP (Chinese Communist Party) virus, commonly known as the new coronavirus, has occurred in Sydney, blocking parts of the state.
Gary Warboys, Deputy Secretary of State of Emergency, was just one of 34 COVID-19 infringement notices issued Monday, 16 of which were violated because he did not wear a fitted face cover. He said he did.
"The police were warned of that. They took some action. The person apologized, cooperated with the police and was notified of the infringement," he told reporters on June 29. It was.
Joyce was recently reelected as a leader of the Nationalist Party and returned him to the position of Deputy Prime Minister of the Free State Coalition Government after a leader's challenge to former national leader Michael McCormack.
The New South Wales (NSW) government has imposed a two-week blockade across the Greater Sydney region as a cluster of delta variants has grown beyond the boundaries of the first hotspot zone on the eastern outskirts of the city.
Currently, about 5 million people are subject to a stay-at-home order as authorities are competing to contain the outbreak.
However, New South Wales officials believe the outbreak has outstripped, saying it expects numbers to decline by the end of the week.
This is because the state recorded 22 new local COVID-19 cases after more than 68,000 tests, occurring in 171 locally acquired cases. Eleven of the cases were quarantined for the entire duration of infection.
Prime Minister Gladys Berejikrian said the government's initial concerns about a significant increase in the number of cases of the CCP virus had not arisen.
"Our fear of huge escalations hasn't come true, and we certainly want to keep it that way," said Beregikrian.
Meanwhile, New South Wales is tightening regulations on travel from other regions to the state.
NSW Health has announced that travelers from the Northern Territory, Queensland and Western Australia are currently subject to a stay-at-home order and must not travel to NSW unless permitted.
From Wednesday, anyone coming to NSW who has stayed in these areas for the last 14 days will need to fill out a tax return.
AAP contributed to this report.