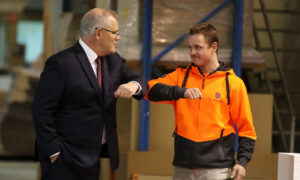 According to the Australian Council of Social Services (ACOSS), a potential 250,000 people could receive unemployment benefits after JobKeeper's wage subsidy officially ends on March 28.
The JobKeeper program has been running for over a year and has helped companies heavily affected by the CCP virus by providing financial assistance to help them continue to hire staff during the COVID-19 recession.
Cassandra Goldie, CEO of ACOSS, said the end of the plan was a disastrous day for Australians.
"When many wake up this morning, I don't know what their future will be," Goldie told Seven News on Monday. "We are still in a health pandemic. Borders are still closed and many industries are still suffering."
However, Prime Minister Scott Morrison said Australians knew that the day would come when the government would have to withdraw from the job keeper.
"Because the Australian economy cannot run forever with taxpayer money, it should be seen as an expression of confidence in the Australian economy and Australian businesses," Morrison said.
New government figures show that as of the end of January, there were 1 million employees and 379,000 companies still dependent on JobKeeper subsidies.
Treasury boss Steven Kennedy also estimated that the unemployment rate at the end of the JobKeeper program was not trivial.
"There is widespread uncertainty in this estimate, but we believe that 100,000 to 150,000 JobKeeper recipients could be unemployed at the completion of the program," Kennedy told Senator Canberra. Told.
JobKeeper has played an important role in restoring the health of the economy, but subsidies can have many negative consequences as other aid measures are implemented and the economy can continue to adjust. He said it needed to be stopped because of it.
"In particular, it distorts wage relativity, weakens working incentives, impedes worker liquidity and relocation of workers to more productive roles, and highlights businesses that cannot be run without continued support. "Kennedy said.
Since JobKeeper was first introduced in April, more than 2.7 million employees and about 680,000 companies have left the scheme, a 72% reduction.
According to data from the Australian Tax Office, the number of employees covered by JobKeeper has declined significantly in all industries, including a 83% decline in retail and a 69% decline in accommodation and food services.