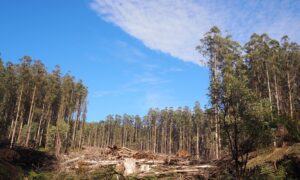 Australia's last white paper manufacturing plant has closed due to a shortage of wood supplies, leading to job losses.
Opal Australia will exit graphic paper production at its Maryvale mill in Victoria's Latrobe Valley due to the sudden and unexpected stoppage of wood supplies resulting from an ongoing legal battle.
"The company and Opal have been considering supplying alternative wood to continue their graphic paper business," Opal's Japanese parent company Japan said in a withdrawal notice.
"However, we have concluded that alternative sourcing is not feasible and have decided to discontinue the graphic paper business at the MV mill (permanent suspension of some manufacturing assets)."
Whitepaper production at the factory was affected in December after state-owned supplier VicForests was ordered to scale back its harvest in parts of Victoria.
The Victorian Supreme Court ruled that VicForests failed to adequately investigate the logging coupes of the two protected species of possum.
VicForests has appealed this decision, which will be heard in the Court of Appeals on March 23.
The disruption has resulted in the dismissal of 49 opal production workers, whose wages have been guaranteed by the Victorian government until the middle of the month.
Nippon expects to post a loss of $21 million from the closure.
"By exiting the graphic paper business, Opal will focus on its future-growth packaging business and strengthen its integrated packaging supply strategy in Oceania by transitioning its MV mill to a sustainable packaging paper mill. ."said.
The Victorian Greens have used the imminent closure of factories to call for an immediate halt to logging of all native forests in the state ahead of a scheduled 2030 deadline.
"Paper should not be made from the habitat of endangered species, but the closure of the Maryvale mill shows that the Victorian Labor government has failed completely in logging," State Party Deputy Ellen Sandel said. rice field.
"They could have proceeded with an orderly transition from logging to protect workers, but they chose not to do so."
We have reached out to the Victorian Government for comment.