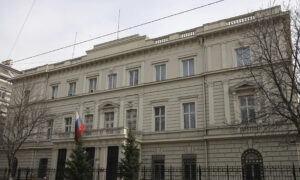 VIENNA—The Austrian government announced on Thursday that it had ordered four Russian diplomats stationed in Vienna to leave the country.
In a brief statement, the Ministry of Foreign Affairs said two diplomats at the Russian embassy "engaged in acts inconsistent with their diplomatic status" and two at the Permanent Mission to the United Nations in Vienna "acted inconsistent with the headquarters agreement." I went," he said. It didn't elaborate.
The diplomat was given one week to leave Austria.
Western European countries and Russia have expelled each other's diplomats several times since Russia launched a full-scale invasion of Ukraine almost a year ago.
Austria, a member of the European Union with a policy of military neutrality, was initially reluctant to take such action, but under pressure from its citizens and EU partners, it announced Russia's decision in April. Four diplomats were exiled.
Austria provided Ukraine with aid, but not military equipment. President Alexander van der Bellen was in Kyiv on Wednesday on a trip to highlight Austria's solidarity.
Vienna is home to United Nations agencies such as the International Atomic Energy Agency and the United Nations Office on Drugs and Crime.
Russia's foreign ministry said it would agree to expel the diplomat, state news agency TASS reported.
Russia's ambassador to Austria, Dmitry Lybinsky, said in a televised remark that he and Mikhail Ulyanov, the ambassador of international organizations in Vienna, had separately visited the Austrian Foreign Ministry late Wednesday to hear about the decision.
"We have expressed our firm protest, rejected the baseless allegations and warned that retaliation is inevitable," he said.
Ljubinski added that the Austrian authorities did not make any specific charges beyond "baseless allegations and vague references to the opinion of the special services." He said the decision would affect Austria's position "as a neutral international platform for negotiations".