Berlin — On Sunday, the city of Würzburg, Germany, held a memorial service for the victims of a brutal knife attack that killed three women, but answered questions about the perpetrator's possible motives. did not.
Five more people were seriously injured in the assault on Friday inside and outside the store in the center of Bavaria. The suspect, a 24-year-old Somali, was shot by police and arrested after people surrounded him and tried to pull him in with a chair and stick.
Investigators were still working on Sunday to unravel what was behind the attack by what they believed to be the lone perpetrators. They are trying to assess his mental health and determine if he has radicalized as an Islamic extremist. It was unclear if he intentionally targeted women.
"We are all affected because it could have happened to anyone," Franz Jung, a Catholic bishop of Würzburg, said in a worship service at the city's cathedral.
Flowers were piled up on Sunday outside the store near where the attack began. Bavarian Governor Markus Söder offered a wreath and described the attack as "simply incomprehensible, horrifying, meaningless."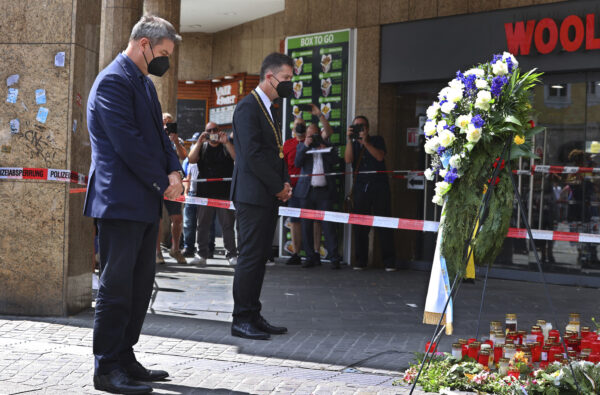 The suspect was sent to jail on Saturday until he could be prosecuted. A local criminal police station was informed that prison officials on Sunday could be dangerous to himself, news agency dpa reported.
The attack began late Friday afternoon when the suspect stepped into a Würzburg store, went to the household goods department and asked a clerk where the knife was, said Gerhard Kallert, regional police chief. .. He then grabbed a knife, fatally stabbed three women in the store, and then continued to attack people outside. Six (mostly women) were seriously injured, one of whom remained life-threatening on Saturday.
A video posted on social media showed that the people around the attacker were trying to keep the attacker away with chairs and sticks. The 24-year-old Somalis was then arrested after being shot in the foot by police.
On Saturday, he is taken to the judge, who holds him in jail for three attempted murders, six attempted murders, and possible charges of dangerous physical harm. I ordered. And another physical harm.
The man arrived in Germany in May 2015 and was given "auxiliary protection", a position that would not lead to complete asylum. He has been in Würzburg since 2019 and has lived in a homeless shelter.
Officials said he did not have a criminal record, but there were two incidents earlier this year that resulted in him being temporarily sent to a mental hospital. In January, he argued with the shelter residents and staff and shook the kitchen knife, said prosecutor Wolfgang Grundler.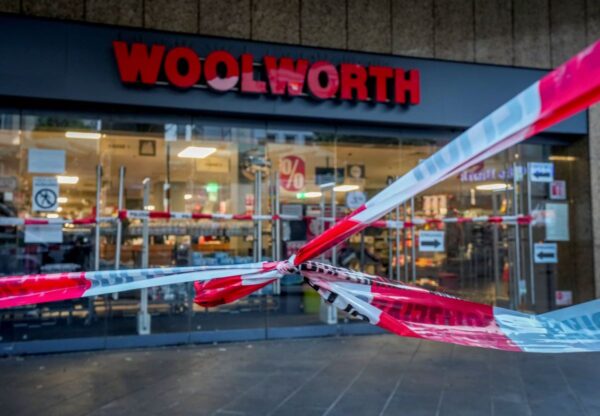 He did not attack or hurt anyone, but investigations began and he was temporarily admitted to a mental hospital. The investigation is still underway and the psychiatric evaluation is still outstanding.
Earlier this month, there was an incident where someone gave him a lift and he didn't get out of the car. As a result, he was admitted to the psychiatry but was released a day later, the prosecution said. They said there was no pattern that increased the problem.
Authorities also noted that the man may have been extremized as an Islamic extremist. Kallert said store detectives and police officers reported hearing the suspect hear the suspect say "Allahuakbar" in Arabic, which means "God is wonderful." Bavaria's chief security official, Joachim Harman, said "more cautious signs" in that direction emerged from his question without giving details. Materials containing a "message of hatred" have also been found, but have not yet been evaluated, police said.
"I'm not sure which one is clear at this point, but I'd like to note that we haven't ruled out each other," Harman said of whether men have mental illness or are radically evolving. Authorities were looking at cell phones and other evidence.
The case was handed over to a prosecutor in the capital city of Munich, but not to a federal prosecutor dealing with terrorist attacks in Germany.
A resident of the shelter said he was among the 10-12 people who tried to stop the suspect from stabbing others until police arrived on Friday, saying the man "always talks to others alone. I haven't. " "He was always weird," he added.
"Thank God. We people scared him a little, distracted, tired, and thank God that it didn't get worse," he named only as Kadir A. The man told RTL TV.
Herman explained that as a "textbook" move, a shot on the foot was used to stop the perpetrator. According to Bavarian rules regarding the use of police weapons, guns should only be used to prevent perpetrators from attacking or escaping, and shots that are almost certain to kill are to the lives of others. It states that it is only allowed if it is the only way to prevent danger.
The rules require officers to aim at the legs as much as possible.