[ad_1]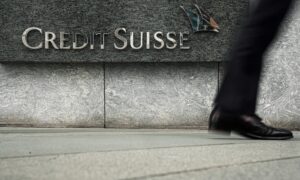 LONDON—Fears of a new recession and turmoil in the US banking system this month have pushed global investor confidence to one of its lowest levels in 20 years, even explaining the demise of Credit Suisse this week. it won't work.
A monthly survey conducted by investment bank BofA showed perceptions that risk levels have deteriorated dramatically after the failures of Silicon Valley and Signature banks but before Sunday's acquisition of Credit Suisse.
The BofA's proprietary 'Financial Market Risk Index' of investor anxiety levels jumped to 7.7, just off last year's extreme highs during the war in Ukraine and the global financial crisis and COVID-19 outbreak. above both peaks.
European fund managers are particularly pessimistic.
Even though Credit Suisse closed the survey before the weekend hit hard, about a third of respondents said a 'systemic credit event' was the biggest risk to the market.
That was up from just 8% in the February survey, pushing inflation out of the top spot for the first time in nine months. Remembering the turmoil at Silicon Valley Bank, the US "shadow banking" sector was cited as the most likely source of danger.
Other surveys have told similar stories.
In Germany, a monthly poll by the ZEW Economic Institute showed a significant drop in investor sentiment.
ZEW President Achim Wambach said that "international financial markets are under intense pressure" and a high level of uncertainty is reflected in economic forecasts.
The failures of mid-sized US banks Silicon Valley Bank (SVB) and Signature Bank, and the subsequent failure of 167-year-old Credit Suisse, have raised investor concerns about other potential banking crises. rice field.
Recession and stagflation risks are also rising again, according to BofA research.
Just over half of the 212 funds surveyed expect global economic growth to slow, and while 84% expect inflation to fall, 88% now face stagflation. high inflation) is the most likely macroeconomic outcome over the next 12 months.
A net 61% of European wealth managers expect the region to slip into recession next year, up from 55% in February. And 42% of respondents expect a global recession, up from 24% last month.
Mark Jones
[ad_2]