BBC Chairman Richard Sharp made a "grave error of judgment" when he failed to declare his role in facilitating loans to then-Prime Minister Boris Johnson, a parliamentary committee said.
Sharp is investigating a possible conflict of interest after allegations surfaced that it helped secure an £800,000 ($987,000) loan guarantee for former Prime Minister Boris Johnson.
The former Goldman Sachs banker has been nominated as the BBC's preferred candidate for January 2021, with the House of Commons' Digital, Culture, Media and Sport (DCMS) Committee supporting his appointment.
But in a strongly worded report released on 12 February, the commission said Sharp had failed to declare his role in facilitating loans to MPs when he applied for the BBC chairmanship.
The committee said his omission "constitutes a violation of the standards expected of individuals."
"It is significant that Richard Sharp's decision to first become involved in facilitating a loan to the then-Prime Minister while simultaneously applying for a job presented by the same person, and subsequently not disclosing this important relationship. Errors in judgment undermine confidence in the civil service appointment process and could discourage qualified individuals from applying for such positions," the MP said.
The Commission concluded that: Sharpe must consider the impact his omission will have on confidence in him, the BBC, and the civil service appointment process. "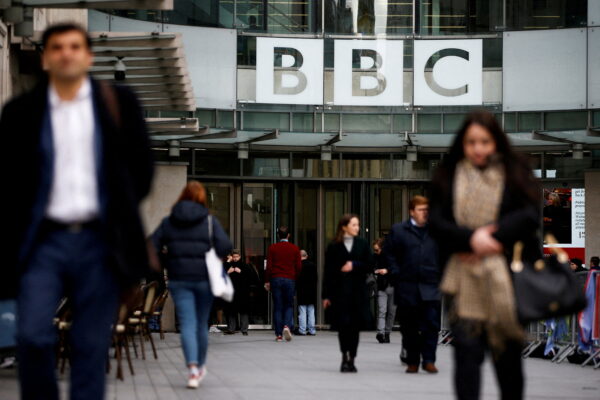 loan claim
The Sunday Times reported on January 22 that Sharpe, then a Conservative donor and BBC chairman candidate, was in financial trouble in late 2020 just before Sharpe was appointed chairman, and Johnson reportedly involved in talks about funding the of a public broadcaster.
Sharp reportedly got involved in November 2020 after his friend Sam Bryce, a billionaire Canadian businessman who is also Johnson's distant cousin, brought up the idea of ​​acting as Johnson's guarantor. .
According to reports, Sharp introduced Blythe to Chief Cabinet Secretary and Civil Service Secretary Simon Case in December 2020 to speak with the prime minister.
In a follow-up report published January 29, The Sunday Times claimed Johnson was warned by officials on December 22, 2020, to stop discussing financial arrangements with Sharp. next month.
Citing advice issued by Case, the paper said: "Given the imminent announcement of Richard Sharpe as the new BBC chairman, it is important that you no longer seek his advice on your personal financial matters. .
"Very dissatisfied"
Sharp claimed he did not arrange the loan and did not give Johnson any financial advice, but admitted to introducing Bryce to the Cabinet Office.
A spokesman for the former prime minister also said Sharp "never gave financial advice to Boris Johnson, nor did Mr Johnson seek financial advice from him."
However, the DCMS Commission said there was an "unresolved issue" as to why the case believed Sharpe was giving Johnson financial advice.
"Mr. Sharp denied ever giving financial advice to the then prime minister, but the Cabinet Office sent a memo to the prime minister advising him not to seek financial advice from Mr. I couldn't explain why I issued it. I was appointed chairman of the BBC," the MP said, calling on the Cabinet Office to "clear the confusion".
Damian Green, Acting Chairman of the DCMS Committee, said: Boris Johnson.
"Such a grave error of judgment means that when it was necessary to judge his suitability as chairman of the BBC, the facts were not fully grasped."
"Cronism"
A Sharp spokesman said the BBC chairman "apologies" for not notifying the committee of the loan.
However, he said: Sharpe believed he had addressed the issue by proactively explaining to the Chief Cabinet Secretary that he was applying for the role of BBC chairman, and thus, more than connecting Mr. Bryce and Mr. pulled.
"At that meeting, and thereafter, the Cabinet Office did not suggest that any action linking Mr Bryce and Mr Case should be proclaimed, and it was expressly agreed not to engage him in future matters. will be excluded from any conflict."
As Labour's shadow cultural officer Lucy Powell said:
"Conservative cronyism is dragging the BBC down at a time when it should be the cornerstone of the creative economy."
PA Media contributed to this report.