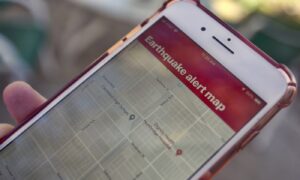 Up to 50 earthquake early warning sensors have been installed around British Columbia as part of a larger program to protect people and infrastructure from major earthquakes.
The sensors will be connected to a nationwide earthquake early warning system that is expected to be operational by 2023.
Sensors can provide warning seconds or tens of seconds before the strongest tremors arrive, helping reduce injuries, deaths and property loss, according to a joint federal and state government announcement today.
BC's Minister of Emergency Management, Bowin Maa, said in a statement that an early warning system is important to help people in the province mitigate the effects of earthquakes.
When the full system is operational next year, more than 10 million Canadians living in the country's most earthquake-prone regions will receive early warning alerts and be able to evacuate in precious seconds.
More than 5,000 earthquakes occur in Canada each year, mostly along the BC coast, but about 20% of the quakes occur along the St. Lawrence and Ottawa river valleys.
On January 26, 1700, a massive magnitude 9 earthquake struck the west coast of North America, sending a tsunami that crossed the Pacific Ocean and crashed into Japan.
A similar quake, while the early warning system is in operation, could alert coastal BC communities for up to four minutes before the strongest shaking begins, the statement said.
The system can also be used to automatically slow down trains, stop traffic crossing bridges and tunnels, divert air traffic, automatically close gas valves, and even open fire station and ambulance doors. It says it can be opened.