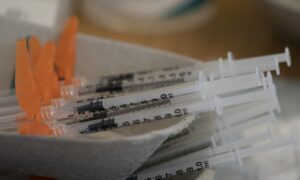 British Columbia is reversing a policy that required state employees to be vaccinated against COVID-19.
Starting April 3, BC civil servants will no longer be required to provide proof of vaccination, according to the state.
The Treasury Department said in a statement that the decision to withdraw the policy was made "based on the high vaccination coverage of civil servants and the current state of the pandemic."
Over 98% of employees say they meet the requirements.
Terminating the policy means that "a small number" of employees who are on leave for non-compliance will have the opportunity to return to work, according to the statement.
The government said people would still need to be vaccinated when working under a state health officer's order or other vaccination requirements, and vaccination mandates would be implemented in "highest risk" settings such as health care facilities. It states that
"The civil service vaccination requirement introduced in November 2021 was always intended as a temporary measure to protect our employees and those they serve," the statement said.
Vaccination "remains the best defense for individuals, including children and young people, against severe illness from COVID-19 and has helped protect B.C.'s healthcare system and economy," he said. I am adding.