Taiwan's Vice President Lai Ching-te came to Japan on Tuesday to attend the funeral of former Prime Minister Shinzo Abe, which is full of dissatisfaction in Beijing.
Prime Minister Abe was shot on July 8 during an election speech in Nara, Japan.
Lai attended a funeral at Zoujoji Temple in Tokyo with Abe's relatives, foreign officials, and close acquaintances.
Frank Hsieh, the Ambassador to Japan of Taiwan, visited Shinzo Abe's home at the beginning of Monday and expressed his condolences.
Lai has been a top executive visiting Japan since Tokyo broke diplomatic relations with Taipei (People's Republic of China) in 1972 and established official relations with Beijing (People's Republic of China).
Japan's Foreign Minister Yoshimasa Hayashi said at a press conference on Tuesday that Mr. Lai's visit was a private position to respect Prime Minister Abe as a friend.
Rye returned to Taiwan on Tuesday night. He didn't say anything during this trip, but he just nodded to the media at the airport.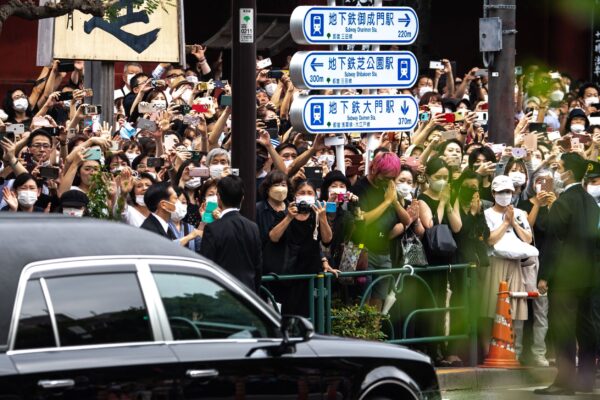 "Diplomatic breakthrough"
Akio Yaita, secretary general of the Japan Media Sankei Newspaper, who had been stationed in Beijing for 10 years, pointed out that Japan and Taiwan do not have formal diplomatic relations, and Taiwan's president, vice president, chief executive officer, and foreign minister cannot. Come to Japan by convention.
"This time (Rai's visit) is the most important diplomatic breakthrough in 50 years since Japan and Taiwan broke diplomatic relations in 1972," said Akio Yaita.
"It shows that Prime Minister Kishida not only inherited Prime Minister Abe's policy of supporting Taiwan, but also made great strides."
Taiwan's Democratic Progressive Party Deputy Secretary-General Lin Fei-fan said in a Facebook post on Tuesday that Mr. Lai's visit to Japan was "friendship diplomacy."
"While Taiwan-Japan interaction is based on diplomatic strategic considerations, peacetime friendship and mutual trust have also played an important role," said Lin.
Chinese regime complains
In response to Rye's attendance at Abe's funeral, the Chinese Communist Party administration submitted a solemn representative to Japan.
"After the assassination of former Japanese Prime Minister Abe, Taiwan's DPP government took this opportunity to take advantage of political manipulation and trivial tactics. Foreign Ministry spokesman Wang Wenbin said on Tuesday. Said at a press conference.
Mr. Wang also said that Taiwan is part of China and "there is no such thing as a vice president."
The Chinese Communist Party government claims that the autonomous island (formally known as the Republic of China) is its territory and threatens to invade Taiwan in the name of "unification with the mainland."

Zhong Yuan contributed to the report.