[ad_1]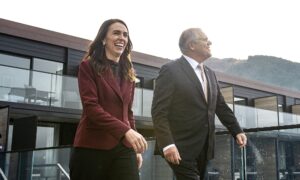 The Chinese government defends its unification stance on China's regime after the Prime Ministers of Australia and New Zealand (ANZ) have expressed "grave concerns" about human rights in China's Xinjiang Uighur Autonomous Region and restrictions on rights and freedoms in Hong Kong. Reaction. , More.
This was done by Australian Prime Minister Scott Morrison and New Zealand Prime Minister Jacinda Ardern. Extensive Joint Statement After the Annual Leaders Summit in Queenstown, New Zealand.
"The Prime Minister has expressed deep concern about the development of a situation that limits the rights and freedoms of the people of Hong Kong and undermines the high degree of autonomy that China has guaranteed to Hong Kong until 2047 under the China-UK Joint Declaration," the statement said. It was.
Beijing is believed to have violated this arrangement when it imposed national security law on Hong Kong last year. Since then, pro-democracy activists have been arrested, sentenced to imprisonment, and in countries such as Australia and the United Kingdom, they have provided a means of fleeing Hong Kongers to obtain visas.
The Prime Minister also expressed serious concern about the human rights situation in Xinjiang Uighur Autonomous Region, respecting the human rights of Uighurs and other Muslim minorities to China, and meaningful to the United Nations and other independent oversight bodies. Asked to allow free access. To the area, "I read the statement.
In response to the joint statement, China's Foreign Ministry spokesman bin the spokesman said ANZ's sentiment did not contribute to bilateral relations, peace and stability.
Wang said that the actions of the Chinese government in Xinjiang are considered genocide in some countries, but they relate to "anti-violence, anti-separatism, de-radicalization" and "human rights," He insisted that it was not "ethnicity, religion".
He also rejected "purely China's internal affairs" and "disguised as human rights" and "external interference" in Hong Kong, calling them "irresponsible remarks" and "unfounded accusations."
ANZ Prime Minister's statement confirmed the need to maintain sovereignty in the "era of intensifying strategic competition" between the United States and China.
They also warned actors who would create "differences" between their allies and try to divide them.
"The Prime Minister reaffirms his determination, shares his approach to combating foreign interference, and builds resilience in all areas of society, including education, infrastructure, research, election processes, media and communities. I agreed with the importance, "said the joint statement.
They also expressed concern about China's militarization in the South China Sea, emphasizing the importance of freedom of navigation and flight.
They emphasized that the waters must comply with the United Nations Convention on the Law of the Sea (UNCLOS) and urged all parties to respect and implement the decisions made through the UNCLOS dispute resolution mechanism. " Is written in the statement. "The Prime Minister reaffirmed the importance of aligning the South China Sea Code of Conduct with international law, especially UNCLOS. Supporting the existing inclusive regional structure without prejudice to the rights and interests of third parties."
Beijing denied these claims and once again called them "unfounded."
[ad_2]