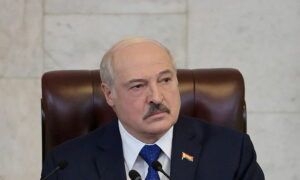 Belarusian President Alexander Lukashenko sentenced those who participated in the protests and insulted state officials to imprisonment by law on Tuesday, a precedent for this veteran leader in last year's elections. It's part of a crackdown.
In a series of amendments to the criminal law, Lukashenko also introduced the first four-year imprisonment for those convicted of disseminating false information that distrusted the state.
The Russian-backed president also introduced stricter penalties for resisting police and using the symbol of protest.
Under the new law, persons who have been detained at least twice for participating in protests or have insulted government officials were previously subject to detention or fines, but were sentenced to up to three years in prison. Will be done.
"This, of course, exacerbates the situation in the area of ​​civil and political rights," said Valentin Stefanovich of the Biasna-96 Human Rights Group. "These laws are, in fact, no longer against protests, but against any dissent."
Lukashenko, who has been in power since 1994, has launched a violent crackdown on large-scale protests after winning the August elections.
Lukashenko did not comment on the new measures that Congress first adopted last month, but warned in March that it would take a stricter response to opposition.
"We need to be prepared for signs of destructive activity, from calling for illegal strikes to manipulating people's minds with Internet technology. At each such step, we have the right response tools in our arsenal. need to do it."
Lukashenko has previously signed amendments to the law governing media, allowing the government to close media outlets without the need for court orders as before.
The European Union (EU) forced the landing of a Ryanair plane during a flight from Greece to Lithuania, after the arrest of dissident Belarusian blogger Roman Protasevich on May 23. We are preparing new sanctions against Minsk.
A joint delegation of the European Union, the United States, the United Kingdom, Switzerland and Japan met with Belarusian Foreign Minister Vladimir Makey in Minsk on Tuesday.
In a statement, the delegation called on Belarus to stop "inhumane treatment of peaceful protesters and political prisoners."