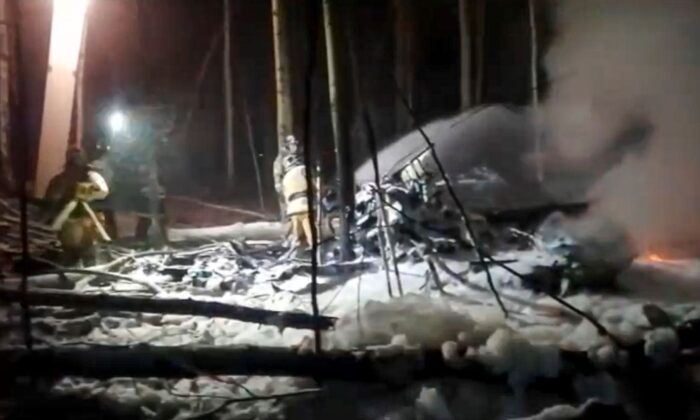 In this image from a video provided by the Russian Ministry of Emergency Press Service, a Russian rescue team is working on the side of the An-12 freighter crash in Irkutsk, eastern Siberia, on November 3, 2021. (Russian Ministry of Emergency Press Service via AP)
Officials said a Moscow-Belarus freighter crashed on Wednesday as it attempted to land in eastern Russia, killing all seven on board.
A Soviet An-12 operated by the Belarusian aircraft carrier Grodno crashed and ignited near Irkutsk in eastern Siberia.
The Belarusian investigative commission, the state's highest investigative body, said seven people were on board and all died in the crash.
According to Russian news reports, the plane crashed during the second approach after failing to land on the first attempt.
The cause of the crash was not immediately apparent. Interfax has quoted preliminary research material showing that the plane crashed after covering the blades with ice under freezing rain.
Belarusian officials said the crew consisted of three Belarusians, two Russians, and two Ukrainian citizens.
The aircraft flew from Bilibino in the Chukotka Autonomous Region in northeastern Russia, stopped over at Yakutsk, and then headed for Irkutsk.
The An-12 is a 4-engine turboprop freighter designed in the 1950s. Hundreds have been built, many of which continue to be used in Russia, other former Soviet countries, and other countries around the world.