President Joe Biden said at a news conference on Tuesday that the United States is at a pace to complete Afghanistan's evacuation mission by the August 31 deadline, as long as the Taliban continue to cooperate.
"Currently, we are at a pace to finish by August 31st. The sooner we finish, the better. Daily operations pose additional risks to our army, but completion by August 31st is It depends on the Taliban continuing to work together, ensuring that people in transit have access to the airport, and not interrupting our operations, "Biden said.
Biden said he was asking the team for an emergency response plan if the deadline needed to be extended, but the U.S. military said in August that long-term stays risked a terrorist attack from ISIS-K. He emphasized that it was his preference to leave on the 31st.
"In addition, we asked the Department of Defense and the Department of State for an emergency response plan to adjust the schedule as needed." Biden said, "We are determined to ensure that our mission, this mission, is completed. "We are also aware of the increased risks that have been explained and the need to take those risks into account," he said. Realistic and important issues that we must also consider. We will stay longer, starting with the serious and increasing risk of attacks by a terrorist group known as ISIS-K. "
Biden said Afghanistan's ISIS is also an enemy of the Taliban, increasing the risk of US and Allied forces being targeted by terrorist groups every day.
A White House spokesman confirmed that 57,000 people had been transferred from Afghanistan and evacuation efforts would be maintained at the same rate, but if that date was met, the troops would begin withdrawing by the August 31 deadline. There is a need. Pentagon spokesman John Kirby said the deadline could be extended, but the president will make that decision based on all relevant information at the time.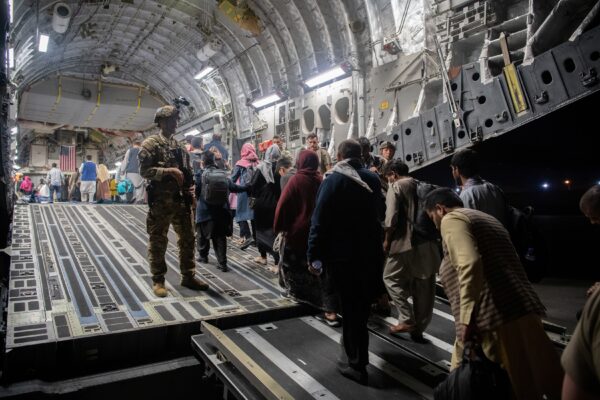 Some Democrats have expressed concern about the August 31 deadline, but Republicans are more categorically opposed to the deadline and the date set by the Taliban.
Rep. Jason Crow (D-Colorado) told reporters at a press conference on Tuesday that the deadline for the evacuation mission should not depend on what the Taliban want, but the complex nature of the mission. He said he understood.
"In my understanding, the military is doing what the military is always doing, and it is implementing an emergency response plan for all possible scenarios, including its presence after August 31. The process is underway. In addition, the Department of State is still involved in discussions on Tullivan and its extension of the deadline, "Crow said. "I don't think our existence after August 31 should be subject to an agreement with the Taliban, but it is clear that the agreement with the Taliban will take precedence and mitigate risk, and we will do that. We must continue to strive to achieve. "
Republicans also held a press conference on Tuesday, revealing that all US citizens and allies had to be airlifted from Afghanistan, and the August 31 deadline was not enough. Rep. Jake Ellzey (Republican) said there could be no timeline to evacuate citizens and allies from Afghanistan.
"We are talking about military missions here. No one can date the success or completion of a military mission. There is no arbitrary date. When the mission is complete, the mission is complete. And Tullivan If you hurt American head hair, all those aircraft carriers and their aircraft carriers, their AC-130s, we'll let you down Hellfire until all Americans come out, and that's what this administration needs to say There is, "said Elsie.
House minority leader Kevin McCarthy (Republican) said House should pass a resolution that August 31 should be extended until the evacuation mission in Afghanistan is completed.